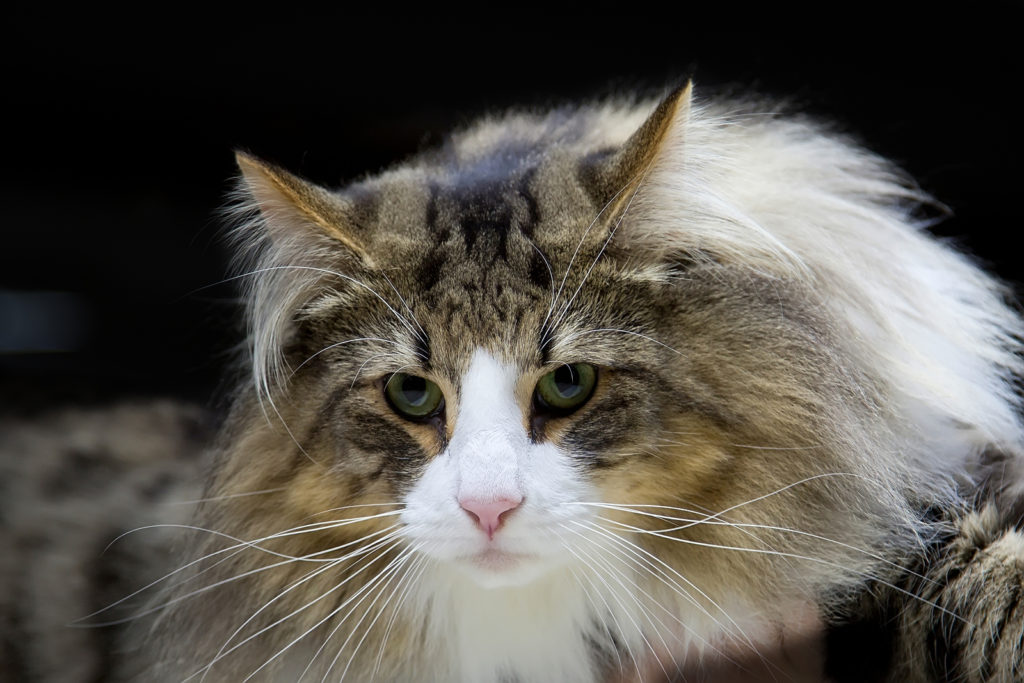 I have a question and also a possible warning to others… …has anyone tried the Wal-Mart brand wet food?… Its called Pure Balance, and its grain free…so I decided to try it out with Gryphon and Gandalf…well they have both completely stopped eating now (worried)…they won't even touch the stuff (I tried the mix in with their old brand)…as soon as I put this new food in their diet, they stopped eating…they ate a small amount at the start, but now they won't touch ANY food at all…not even their high quality grain free dry food (again, I'm worried)… …Gandalf has dropped a half pound in 5 days, but Gryphon has dropped a full pound…they just won't eat anything…no matter what I try…today I resorted to spoon force feeding Gryphon…at least he got something in his stomach… …I don't know if this is the cat food, but I highly suspect it is…has anyone else had this problem with this particular brand?…and if so, what did you do to get your cats eating again (I'm not giving this brand to them anymore, but I need them to eat the dry food at least)

Hattie Nguyen: Just a side note…the food smells really weird…like boiled linseed oil (strong oily smell, almost like diesel)
Michelle Powers: Was it made in China?
Hattie Nguyen: Michelle Powers: I don't know…all Wal-Mart will say is that the ingredients are sourced from high quality and from Canada…they won't answer my emails
Michelle Powers: Get rid of it dont take a chance and if they dont start eating asap go to vet.
Hattie Nguyen: They aren't getting it anymore, and the rest is going back to the store asap…I should have known better than to trust a "store brand" made by Wal-Mart ?
Aubree Mccarthy: I bought it once but my cats wouldn't touch it
Hattie Nguyen: Success ? …I managed to convince them to eat some greenies dental chews…now they're hunting around for more…with any luck, they'll start munching on their dry food
Layla Daniels: Hattie Nguyen: Save a couple of cans and see if you can get it tested. I haven't been able to figure out how to do that yet but I'm going to find out in case if ever happens again to my cats. I'm still not sure if our issue was with Fancy Feast or the Instinct. We started buying a different lot of FF from different grocery stores here.
Cash Dixon: We stick with Fancy Feast pate or Friskies. We won't buy anything but well known brand names, you just never know if the stuff comes from China. Smells like deisel??? OMG chuck it.
Abigail Phillips: Yikes! Hope your guys get to feeling better soon!
Helena Duncan: Try some baby food like chicken or turkey, that got our eating
Lilah Bryant: Keep some and get it tested just in case you need to take it further legally
Hattie Nguyen: I will be keeping some because I can only take back unopened cases…I need to find a place to get it tested, but I hope I don't need to take legal action
Judah Wagner: Hattie Nguyen: I would check Google every so often to see if anyone else is having a problem with the food.
Bennett Drake: Vet should be able to test it.
Lilah Bryant: I hope your cats will be ok.
Athena Montgomery: Do they like tuna? You could mix some into their usual, good, wet food to tempt them to eat it again.
Antonio Norman: Not had a problem with NFC's but my last boy used to get regular bouts of pancreatitis which would stop him eating. When he would first come home from the vets I had to syringe feed him. I used to get the post-surgery stuff from the vets, mix some cat milk in it to make it runny and use a syringe to squirt it into his mouth. Messy, but effective in getting nutrients into him. I would then tempt him with kippers, mackerel and sardines (his favourite was sardines in tomato sauce out of a tin) then I would slowly introduce his normal food again. Cats don't do well if they go a few days without eating anything so the syringe feeding may become a necessary temporary solution if you can't get anything into them any other way. Good Luck. Hope they are both feeling better soon xx
Hattie Nguyen: I know there's something seriously wrong, because I made "Pad Thai" for supper tonight, and they usually go nuts when I start cooking the shrimp…nothing at all tonight though ?
Antonio Norman: Have they been vomiting? Are their toilet habits normal? Are they still drinking anything?
Hattie Nguyen: Toilet has been minimal…water has been way more than usual…no vomiting though
John Wright: Oh, I hope they are ok…. I would get them to the vet ASAP.
Antonio Norman: Do you feed them any wet food? if so try watering it down so it's really runny and see if they will "drink" some of it. Getting anything with some nutrients into them is the priority. I was checking on the vomiting as that's how my last boys episodes always started. Have you felt their tummies to see if they are showing any signs of pain? I'm just wondering if it's caused some sort of blockage (which is why was asking about toilet habits). I seem to remember it's a bit of a long journey for you but I do think if you can't get them to eat anything at all they probably do need a trip to the vets just to be on the safe side. Keep us posted Hattie Nguyen: xx
Fatima Davidson: Antonio Norman: Do you have Kittys or dogs?
Hattie Nguyen: I think the minimal toilet issue is because their tummies are empty…no pain reactions (but cats are experts at hiding what they're feeling)…on the plus side, Gryphon is starting to grow his fur back (the vet said he lost most of his undercoat and it would take several months to grow back)
Antonio Norman: Oh bless, try a few things we have suggested and see how you go but if you haven't got them eating anything at all by morning I think a trip to the vets is a necessity. Sending healing vibes. Give them both an extra cuddle from me xx
Jocelyn Hawkins: With cats and dogs, we've found that plain boiled and chopped chicken can sometimes get them eating again and doesn't irritate their gut. With Frankie, I sometimes have to resort to hand feeding tiny amounts just to get him started again. I hope your boys are better soon.
Dawson Bennett: Opie got really sick on a different brand of food and did the same thing. I tried everything. I finally found this that got him eating again. Now it's just our normal food. It's smell seems to make them want to eat again.
Bailey Hansen: My NF not eat Royal Canin now. The dry and the wet food.
Hattie Nguyen: Update: I got them to eat some greenies dental chews…hopefully they'll be eating their dry food soon
Sage Mccarthy: I fed it to my cat and he ate it for about 10-14 days and then wouldn't eat it so went back to old brand and he ate that for about 2-3 months and every once in awhile I would put a teaspoon of the Pure balance in his food just for 1 day. I did this for over a year he never was completely on the Pure Balance but would eat as a treat type change. Cats are really funny eaters.
Fatima Davidson: I know this may not sound pleasant but, when my cat stopped eating because his buddy died The vet gave us a appetite stimulant to give him every 3 days. It worked for awhile and he started eating on his own! You may want to bring them to the vet for a check up and then relay this story to him. AND DID YOU CHECK THE CAT LITTER? WHEN YOU CHANGE FOODS they sometimes get diarrhea, which dehydrated them and also makes them loose weight. If they look push for the appetite stimulant, 1/2 pill every 3 days is what mine got. The dose might depend on the cats weight!
Fatima Davidson: If their vet check up is ok, and he says there is nothing he can find that would stop him from eating tell the vet about this spirited stimulant, and it should work! It got my heart broken kitty eating again. After they get used to eating you will see they will keep going back to the dry food that I leave for them to graze on during the day! Try and convince the vet to give kitty this pill
Hattie Nguyen: No diarrhea in the litter box…at the moment I'm between vets, as the one I was taking them to told me that Gryphon was overweight at 11.2 lbs (said he should be 8 lbs)…he was over 6 lbs at 4 months old and has always been super active (defiantly no…See more
Fatima Davidson: The Ragdoll always has a " fat pad" on the abdomen, and they are big cats, a neutered full grown male can be 30 inches long front paws to back paws stretched out AND they can weigh up to 25 lbs ! They can get really big and not be concidered fat!If yo…See more
Hattie Nguyen: Both are 19 months old now (2 weeks difference in age)…Gryphon is my NFC mix, and Gandalf is maybe a Ragdoll mix (flame point)…Gandalf is already 37 inches reach when he stretches on the tree to scratch, and he was 12.2 lbs, but he's dropped to 11….See more
Fatima Davidson: Hattie Nguyen: Geez they are long but not FAT by any means! They are beautiful too! And your daughter is cute too, i'lol bet she loves having kitty brothers, I know I would have!Isn't there a vet that has a good reputation anywhere near you?You can't let them get dehydrated!
Fatima Davidson: My 9 mo. Old Ragdolls weigh almost as much as your boy! And they are very long and lean!Get them a clean bill of health, and tell the vet about the spirits stimuent and keep their weight stable
Hattie Nguyen: Most of the vets near me (within 1 1/2 hours drive each way) don't really focus on small animals because its all farming area…I don't think they're dehydrated because they've been drinking more than usual (and still going in the litter)…if I have to, I'll take them the 3 hrs round trip to the city (lots of vet clinics to choose from there)
Fatima Davidson: I thought I wrote appetite stimulants! Not sprits stimulant! This I phone it's like a goat writer!!
Fatima Davidson: Hattie Nguyen: Yikes!! And I think it's bad to have to drive 20 minutes to the vets! I used to live near the beach in So. Cal. And everything was 10 min away at the most!Now in Connecticut I am concidered in a rural area! But not as far out as you!
Fatima Davidson: Goast writer! It is this phone!! Really
Fatima Davidson: What is a goat writer?!? This I phone wants me to sound stupid!!
Fatima Davidson: Hattie Nguyen: Did you really parachute out of a C17? And did the Kittys come with you???
Fatima Davidson: When I read my posts I look and sound NUTS! And I'm not nuts, at least I don't think I am.
Fatima Davidson: Hattie Nguyen: Drinking more than usual is a symptom of diabetes I think. At least in humans I think.
Hattie Nguyen: Fatima Davidson: …The vet clinic I was taking them to is 45 minutes each way (closest big city of 33000 people ?)…I live in Saskatchewan, Canada (96% as big as Texas) but we only have 1.1 million people…going long distances for services is just something we get used to…my truck is only 2 years old, and its already got 92000 km on it (57000 miles)
Fatima Davidson: Yup it's a symptom in humans, don't know about cats though….
Hattie Nguyen: Both are probably too young for it to be diabetes…and the fact that its all of a sudden, and both cats at once
Fatima Davidson: Hattie Nguyen: Yes that's rural for sure! But I am sure it's pretty there. What does one do for fun?
Fatima Davidson: Hattie Nguyen: yes that's right both at once! Good thinking! Well maybe it's the goid
Fatima Davidson: Good thinking NOT GOID! I swear it's the phone! When I had the Android this did not happen..
Hattie Nguyen: Yep…21 years worth of military service…jumping ended my career after a very very bad landing…that jump out of a C-17 was actually out of an American one before Canada got them (down in Georgia)
Fatima Davidson: Shoot! A bad jump! I could never never never jump out of a plane, I can barley jump high on a trampoline!Did you break every bone in your body? Cuz that's exactly what would happen to me if I jumped….
Fatima Davidson: Hattie Nguyen: What is the immigration situation there?
Fatima Davidson: Hattie Nguyen: Oops Am I in a Norwegian Forest Cat page? If so, sorry thought I was in Ragdoll Owners page!
Hattie Nguyen: I did break my leg in 2 places (I've got a big titanium rod and screws in it now)…I hit the frozen ground at 70 km/h (43 mp/h) estimated…I got pretty messed up……the immigration situation?…I'm starting to feel like a minority in my own country…but we pretty much try to get along with everyone (we can't afford not to, life's too short)
Hattie Nguyen: Fatima Davidson: doesn't really matter as long as you're talking cat stuff primarily ?
Fatima Davidson: Hattie Nguyen: Well I got OUT OF BED, took a couple steps, fell down got back up fell again, that's when I figured out I broke my "ankle" really my lower leg bone NEAR the ankle, and I have pins and screws and plates in my leg. At least then you tell your s…See more
Hattie Nguyen: People have died falling less than 5 feet
Fatima Davidson: Hattie Nguyen: Well! The hunters are outside in the DARK shooting dear! They must have headlights on cuz we have NO STREETLITES, so they can't see! They are deer jacking!A hunter killed a woman he THOUGHT was a deer in the woods! He went to trial, but I do …See more
Fatima Davidson: Hattie Nguyen: life is short, but I really do not want to be looking over my shoulder to make sure someone who was raised to hate and kill me is not attempting to do so!That's bad around the Great Lakes and Chicago!
Hattie Nguyen: Could be pretty high odds
Fatima Davidson: Hattie Nguyen: Yes I know, but lately if it's possible it will happen to me!! LOLgetting out of bed and breaking an ankle?I did not even trip it just snapped!…See more
Hattie Nguyen: Didn't break my back, but another guy had an identical accident to mine a couple months later, and he's paralyzed from the neck down now
Fatima Davidson: Hattie Nguyen: Oh my god. That poor man. Well you had someone watching over you, that's for sure!
Fatima Davidson: Did you look at my pics and see my kitty's? I can't believe how big they have gotten when I look at the pic's where they could BOTH FIT IN THE TOP OF THE CAT CONDO! They were so cute! Still are hoist bigger, Tagdolls are not concidered physically and emotionally full grown until age 3!!!So, at 9 mo I guess they are still babies!
Fatima Davidson: Ragdolls not Tagdolls! That I can't blame on autocorrect! I hit the T instead of the R! My bad
Hattie Nguyen: They're adorable ?
Fatima Davidson: They are just Soooo cuutteee!!
Fatima Davidson: I got them in July, they were 4 mo. Old and at the time I thought they were kinda big!! Now look at them! Almost 12 lbs and 9 mo old! Born the day before St. Pactricks Day!Just the cutest thingsl!…See more
Fatima Davidson: II had never known about Ragdoll cats, but I heard the name Ragdoll and I thought I have to google them , well! They were so beautiful I decided the kitty I wanted would be a Ragdoll. I googled Ragdoll breeders in Connecticut and there were 2 breeders …See more
Fatima Davidson: Sorry Linley!
Fatima Davidson: Shoot! Autocorrect again ! I am trying to write Lonley
Fatima Davidson: Hurray! I did it!
Karla Silva: I would never feed my kids Walmart anything. Never, ever, ever.?
Hattie Nguyen: I should have known better ?
Fatima Davidson: Hersey Young Joseph I wasn't gonna say anything! She is not the only one who had trouble with Walmart food!Sage Mccarthy: had the same problem with Walmart food! SEE ABOVE!
Karla Silva::
?
Fatima Davidson: Karla Silva: sorry I or auto correct spelled your name very wrong! Sorry!
Karla Silva: That's ok. I knew who you meant. Lol
Jordan Griffith: Stoped eati g? Take to vet asap, possibly food gave them blockage????? Vet asap
Hattie Nguyen: Its not a blockage because they're still going, just not as much as before because they stopped eating…no sore tummies either
Jordan Griffith: Have you tried giving them stinky wet food? And still nothing?
Jordan Griffith: Thecatsite.com
Our cat lost his appetite after going on Amytryptaline for anxiety.
thecatsite.com
Jordan Griffith: Some interesting reading
Hattie Nguyen: Right now I've only got the Wal-Mart stuff as wet food…I ran out of their usual, because I was switching them to the Wal-Mart stuff (high reviews for it, but I guess reviews can be faked)…I've got high quality dry out for them all the time though
Jordan Griffith: Petco sells calorie supplement in a tube, you dab it on their paw, and cats are clean they will lick it off. Just a thought. I would be getting them to the vet.
Joseph Chambers: Any news on your babies James, such a worry for you xx
Mira Medina: Hattie Nguyen: if they have gone beyond 36hours of no food cats go into starvation mode and start to break down their muscles for protein. Feed very small amounts of food. Even if it is treats to start with get some human grade meat and grind it up cook it and add water from cooking it. I refuse to buy asda food (british side of walmart).
Danna Knight: They likely have upset stomachs from it, considering the fact they won't eat anything. Try them with a little warmed up kitten food, or some fresh cooked meat as the smell will be far more inviting to a cat. Cats can't go for longer than 48 hours with no protein intake before their liver starts to struggle so I was recommended by the vet to feed my old cat fresh cooked chicken and fish, they don't need a lot of it to get the protein they need. They may also like runny egg yolk (but never from organic eggs as there's a salmonella risk as the chickens aren't vaccinated). At the end of her life my old cat was pretty much only consuming runny egg yolk and her liver was one of the few organs that didn't fail (just end of life, she was 22 so the failures were just her body shutting down. Her intestines and stomach stopped working as well as they should do but she was happy on soft kitten food for months. Basically we shared a gastrointestinal condition for the last few months of her life so I knew what food consistency to feed her ?). They often like it if we offer it on the end of our fingertip ?
Mira Medina: I give all my cats raw egg yolk. And home cooked meats (raw at times)
Beckett Vasquez: Sound's like a vet visit then wet food investigations xx
Layla Daniels: The same type of thing happened to my two NFCs. We tried Instinct canned food a couple of times then they stopped eating. We weren't sure if it was the food or something else that they ate. I brought them to the vet after a couple of days because it was so unusual. She gave them fluids and said that really helps. We cooked chicken in water only and fed them the chicken mushed up with rice. They loved the broth and drank it like crazy in the food and separate bowls. I kept making broth for a few weeks. Either I cooked the broth down for a couple of hours or took the chicken off the bones then cooked the bones down for a while longer. Bone broth is a wonderful healer for humans and pets.
Fatima Davidson: Layla Daniels:I find that if your cat is doing well on the food he is used to and that food is a very good quality, then you should not change the food in the Kittys, first of all they are creatures of habit, and second when you mess with cats food you…See more
Layla Daniels: Fatima Davidson: Thanks – yes my cats eat FF pate canned only. We tried the Instinct because my last cats ate it and it was a great grain free high protein food. They inhaled it, loved it. Now I see how sensitive their stomachs are. They had to have had a reaction to one of the ingredients. They love their homemade chicken broth still though and it keeps their pipes flowing… 🙂
Fatima Davidson: Layla Daniels: Yes mine loved their home made chicken soup too and when I make it for myself and my husband I make it for them too, my rescue kitty Peach , who sadly I had to help him go over the rain now yesterday as his heart was failing he stopped e…See more
Fatima Davidson: I am just full of sad stories today, Sorry… So does everyone have all their Christmas shopping done???? I need to get my hubby a card yet, for some reason I keep forgetting that!
Antonio Norman: Fatima Davidson: So sorry for your loss xx
Fatima Davidson: Antonio Norman: Thanks , it's sad but at least he is no longer suffering you know?
Antonio Norman: Fatima Davidson: Yes sometimes it's the only choice we can make, but it still breaks our hearts. Just to let you know I'm thinking of you and I know you will be missing him x
Jocelyn Hawkins: Just an extra thought. If you are taking the rest of the food back to the store, keep some back and take to Trading Standards or whatever the equivalent is in Canada. It is more likely to stop this happening to anyone else than if you just leave it to the company. Keeping my fingers very crossed for your boys. Hugs to you and purrs from Frankie and Gwen.
Fatima Davidson: I cooked up some chicken for my kitties when I was making chicken soup for myself! I used organic chicken broth from a box to cook the chicken in for the cats, cut the chicken very small and poured the broth on the chicken! THEY LOVED ALL OF IT!I don't think my chicken stock would have been flavorful enough if I did not use the boxed broth. It was low sodium so it was not bad for them or myself!Also I cooked and chopped the livers for them…. but they did not like them! Typical kids! Did not eat their liver! I had a cat that disappeared for about a week I looked for him everywhere, we had just about given up, when We came home one day only to see Sammy curled up on the front porch, he had ben hit by a car, be had deep scrapes in his legs and feet, We brought him to the vet and he confirmed that Sammy had ben hit and dragged by a car, he gave us special ointment for his wounds, he was covered in fleas the vet said he was probably near by but unable to walk home so he stayed away, trying to get stronger,I thank god he was able to make it home, we put him the spare bedroom and Zi cooked chicken livers in broth and also plain chicken, he loved all of it and ate it like there was no TOMMORROW, I tended to his wounds and kept the other cats away from him because he was weak and needed all my attention and all the food he could eat! My Sammy healed up and lived another 4or 5 yrs, the accident happened when he was at least 10 yrs old! He was my husbands out door kitty, and he really did not like it inside but he knew he was not ready to go back out, when he was ready he stayed in our walled in back yard and never was seen in the front yard again, Sammy was a sweet kitty and we also had his brother who was visually upset that Sammy had disappeared, and followed him around when he was better and back with the family!
Jordan Griffith: Wow Nancy, what a tear jerker. Thank you for sharing that story. Happy it had a good ending. The ghings we fo for our furbabies.
Fatima Davidson: Jordan Griffith: Yes we were beside ourselves, I am not a fan of letting cats outside but when I married my husband he had 4 cats all outside ( we lived in So. California at the time so the weather was good and they all curled up in a big fog house in rain…See more
Hattie Nguyen: Update: Gandalf is back to eating (not 100% as before, but at least he's eating)Gryphon has taken quite a bit more to get him to eat…he will eat treats, so I gave him as many as he wanted……so I decided to try something I hadn't considered before…I tried the same food from Wal-Mart, but added in enough warm water to make it soupy…Gandalf liked it and ate half a can…Gryphon still wouldn't touch it…so I thought, maybe its the smell of it that's putting them off…so I added a tiny amount of apple cider vinegar…Gryphon likes it…So I'm guessing that there's something about the smell of it that he doesn't like…but he likes it with apple cider vinegar in it……I'm still gonna take the rest back though, because I don't fully trust it
Mira Medina: Apple cider vinegar is good for them. I have searched for this brand of food it isnt wal marts own make as i can get it over here. I would contact the company themselves and let them know. I personally wouldnt use it. Do you have a pet supermarket like pets at home or pet smart or similar. If you do they will be able to advise food.
Hattie Nguyen: No pets at home store, but we do have a petsmart (3 hrs round trip to get there though…that's why I buy their food by the case)
Mira Medina: Might be worth having a chat with one of their advisors. Pets at home is a british store. It may be worth sticking with original food. As this pure balance sounds strange especially with that chemical smell
Hattie Nguyen: I really don't want to put them back on their old wet food (Friskies)…Gryphon had slightly red ears and lost fur when he was on it, and since I've removed it from his diet, his ears are normal, and the fur is growing back…and his undercoat is starting to come back too……I might have no choice though
Mira Medina: Thats why i suggest you talk to the advisors as they will be able to give advise on grain free food. Friskies (felix) isnt brilliant even over here nor is hills science diet both owned by mars. Most of the major pet stores will carry their own make which is better than most
Fatima Davidson: Hattie Nguyen: James did you ever try Fancy Feast shredded Chicken in broth 3 oz. size! Mine were on Royal Canin feet for kittens and they started to have loose stools, vet said Royal Canin made for loose sticky stinky stools in lots of Kittys! So he said FF from grocery store is better cuz it's all chicken no corn or soy or wheat!They took to it like there was no TOMMORROW! I think you should give it a whirl!
Hattie Nguyen: Fatima Davidson: I've tried that one…Gandalf doesn't do well with non-pate type foods, he tends to gulp any shredded or chunky types…then it all comes back up because he gulps in air too, and goes away to another room and BUUURP! and out it comes ? …he's fine with pate because he licks those types
Mira Medina: Oh dear. Have you ever seen sheba they do pate and we have gourmet gold which is a pate. They could be under different names.
Fatima Davidson: Hattie Nguyen: ok I see, well there may be some Fancy Feast Pate types, this shredded chicken is just what I found my buddies like and do well on!Hey! Guess what? The Litter Robot came just now! Hubby paid c-tra for expedited shipping! So we are going to l…See more
Mira Medina::
Mira Medina: Sorry cats sat on phone
Hattie Nguyen: Mira Medina: I've seen commercials for Sheba, but I haven't seen it in stores here…probably a different name here, like you say
Annabelle Cannon: Not sure if you can getvit where you are, but when mine get sinus problems and has problems smelling so therefore problems eating I buy cat food soup..
Mira Medina: I have brought this and my cats look for more it is about 2 mouthfuls for them.
Annabelle Cannon: Yes same for my NFC . Its my shorthair thst has the issue, but once hes started eating I can put down his normal wet…its a good 'starter'
Mira Medina: Yes was good for getting my lot eating after a cold that left smudge with pnuemonia. I use it as a treat now
Hattie Nguyen: I'm not sure if its in petsmart, but I'm gonna check……road conditions aren't good today (snowing and blowing) but I need to get them some different food, so I'll probably brave the 3 hrs drive…and the last minute Christmas shoppers (but at least they probably won't be in the pet store)
Annabelle Cannon: Gourmet is one brand.Sheba also do one.
Mira Medina: Annabelle Cannon: he is in canada so probably a different name. If friskies is purina over there then gourmet is possible fancy feast.
Hattie Nguyen: We have fancy feast here, but I've tried them with it, and they didn't care for it much
Mira Medina: It may not be as good as ours though
Annabelle Cannon: Yes its fancy feast. Oh if they have tried that no good. Whiskas also do one
Mira Medina: Why cant the companies would call the food the same thing.
Layla Daniels: Hattie Nguyen: Until their tummies settle from the upset they won't want to eat much. Try the plain broth with a little cooked chicken and see if they'll eat that. Then once they start eating that then you can reintroduce whatever canned food you want to feed them just a little at a time. It takes a few days.
Hattie Nguyen: Update: I spent most of the afternoon driving to and from the pet store…I got a bunch of different grain free wet foods (lots of samplers to try)…the first one I tried tonight was a shredded chicken and pumpkin soup…instant success ? …I also got some supplements and broth for them to help get their appetites back and their weight back up
Karla Silva: Wonderful!!
Fatima Davidson: Hattie Nguyen: It sounds like the Kittys are on the mend, and the foods you choose should be good for them , and something different, but easy to digest and process. That's good, healthy soothing food , esp. if he's not eating well.
Mira Medina: Brilliant. Pet store all the way from now on. Make sure plenty of variety too.
Jordan Griffith::
Tenor
Jocelyn Hawkins: So glad they're eating again. Hope they're all back to normal soon.
Beckett Vasquez::
Tenor
Mira Medina: Success then Hattie Nguyen: on find suitable food.
Hattie Nguyen: I found out why the Wal-Mart food has a 5 star rating, its because they reject any reviews they don't like…I tried to send a review, and they rejected it because they didn't like it…really Wal-Mart?!…well word of mouth goes way further anyway!
Mira Medina: It seems to have raving reviews on alot of cat sites. Find out who actually makes it and complain to them. If tgis was a bad batch they need to know.
Mira Medina: Hattie Nguyen: go slowly on the food to much all at once could cause a fatty liver especially as they were refusing food for more than 36 hours.
Hattie Nguyen: The portions are small
Mira Medina: Good just go slowly. Which ones did you get.
Hattie Nguyen: Weruva cats in the kitchen and Primal freeze dried…I got Broth bowls by Fruitables to rehydrate the freeze dried, and Tomlyn high calorie nutritional gel…I also got Earth origins supplement to put into any boiled chicken I make for them…and of course some store brand dry samplers that the pet stores always try to give (I'll just mix that in with their Nutrience sub zero)
Mira Medina: A good mix. I love my pet store for the samples they give out. Currently i am soaking freeze dried kangaroo in chicken broth for my cats dinner
Fatima Davidson: Mira Medina: Really? You feed your cat kangaroo?Do they normally eat that? And are there special benifits to Kangaroo meat?
Mira Medina: I got some samples from my raw food supplier. They are loving it.
Fatima Davidson: Mira Medina: What type of meat do you feed raw!And what are the Brand Names for Raw Foods? My vet is not real happy with Raw food but everyone raves about how the Kittys love it and how beautiful their fur is when feeding Raw! I do have to say my cats…See more
Mira Medina: I dont do brands i make my own. They get human grade meat 80% muscle meat this includes heart. 5%liver 5%other organs and 10%bone. (I cook bone till it will go through the grinder). Use the stock to mix food) I also feed day old chicks and mice. Reason…See more
Fatima Davidson: Mira Medina: Wow! Boy do I give you lots of credit! This must keep you so busy! Do you make the food in quality, and freeze it?Day Old mice and chicks, I don't think I could even find this in the states! Maybe the day old chicks from a poltrey farm but…See more
Hattie Nguyen: Fatima Davidson: you can ask your pet store for the mice…the once I go to stock them for reptiles…I'm just Leary of getting them for mine in case they don't eat them, but instead play with them and loose them somewhere in the house ?…(they're frozen)
Mira Medina: No i dont do in quantity should do really. They get 4 days raw/homecooked then 3 days commercial. Mice and day old chicks are from a supplier who supplies reptile owners with food. The chicks are male ones so easy to get. Hattie Nguyen: let them have play time with the mice. Twiglet is the only one who eats mice and day old chicks. She is only allowed in the hallway. As i can be quite screamish
Hattie Nguyen: Mira Medina: …I have way too many hiding spots for the decaying mice ?? because my house is undergoing a slow motion whole house renovation ? (4 years now…never live in your own diy renovation)
Mira Medina: Do they have a catio if so feed them out there
Hattie Nguyen: They have a small one I made this spring, but right now its -19° C with wind that makes it feel like -32° C (-2.2° F feels like -25.6° F with wind)…I'm not even taking them outside for walks now that it's full on arctic…and supposed to get colder
Mira Medina: Oh gosh and we are basking in 10°c.
Hattie Nguyen: On plus side, at least its sunny out ?
Mira Medina: We have rain.
Hattie Nguyen: Liquid sunshine ?
Fatima Davidson: Chicken pure meat no grains! I thought I posted no grains but then again I think it's I phones autocorrect! It literally makes me fight with it to put what I want to post
Mira Medina: Fatima Davidson: autocorrect can come up with weird stuff lol
Fatima Davidson: Mira Medina: I was beginning to think I was the only one who had to battle with autocorrect! You made me feel better!?❤️????
Fatima Davidson: Well it's Christmas time and we are going to get snow on Christmas Eve and Christmas Day! That's the best time to have snow! So beautiful
Mira Medina: Doing battle with my dsh right know he wants out we have said no so he is walking around shout oo
Mira Medina: Now not know. Wish we could have snow
Fatima Davidson: Mira Medina: Kath, You are in UK? Does it snow there ever?
Mira Medina: Yes i had a couple of millimeters but as i am on south coast we dont get it really. Scotland has had snow though
Fatima Davidson: Mira Medina: My boys are doing CUTE CAT! That's when they do things that are so cute It makes me kiss them and kiss them and kiss them ! Then they stop CUTE CAT and run away from their crazy mommy!They are nose to nose sparring with each outher!
Mira Medina: Twiglet is sulking on hamster cage.Brewster is grumbling about not being allowed outBagheera is asleep in the empty food bowl…See more
Mira Medina: We brushed twiglet so now she hates us
Fatima Davidson: Mira Medina: Scotland gets snow routinely? Or is it a fluke! I have ben to UK, Scotland& Ireland, beautiful country side! And UK is a cool place to hang out!
Mira Medina: No scotland gets snow most years
Fatima Davidson: Mira Medina: Update on new Litter Robot… UPS dropped To it off yesterday, we left the box unopened in the living room so Raffy+ Suggs could sniff it out. Early this AM we brought it downstairs and set it up under Suggy's watchful eye, it's now 7:27 p…See more
Fatima Davidson: Mira Medina: You have quite a houseful of kitty's! I have two brothers. I would LOVE a little girl kitty, Time will tell, just put down our old buddy Peach, he was suffering. I can't bring myself to get another Kitten now, I feel like I need to honor Peach for awhile…
Fatima Davidson: Mira Medina: I guess that is one of the reasons we call Connecticut, Massachusetts, Vermont, New Hampshire& Maine New England! Similar to UK!
Mira Medina: Twiglet is 5months old think she is hitting teenage phase. We are looking for another kitten. Not sure about these robo itter trays. We have 3 trays but they use the one downstairs more than the ones upstairs. Put a bit of old litter in the new tray
Fatima Davidson: I would like a third kitty a little lady this time.. but I have to wait awhile to honor my cat I reduced and he was 10 he red old but he had an enlarged heart that wasn't operating well and he was suffering. So, I want to wait awhile. Anyway, I poled …See more
Mira Medina: I want to get another kitten before i lose sarafina she goes for a third lump to be removed early next year. Hope your boys use the robo soon. Yes wait a while hope the boys are coping with their loss to. He will be waiting at rainbow bridge
Fatima Davidson: Mira Medina: WhenI was holding Peach, after the vet gave him the shot I told him to look for all his brothers and his sister. And he was peaceful .I know he is with everybody.Does saragina have cancerous lumps? I hope not:-) I need a female kitty because I am surrounded by males, human and feline!
Mira Medina: They are pre cancer hopefully last one. She had a large one in her stomach they got it all. The second one was a fatty lump but was painful because it was on her leg. This one he suspects another fatty lump but want it removed before it hinders her
Fatima Davidson: Mira Medina: So sorry to hear this. My vet said all purebreeds are more apt to get cancer, allergies, intestinal problems , they are so sweet, but you have to be aware of everything the do , and eat, ect. Vet said one of her clients had 2 Ragdolls get …See more
Fatima Davidson: Here is one kitty. His name is Raffy! He looks for trouble!
Fatima Davidson: Here is Suggie! He is sweet , sensitive, and thinks twice before he does anything! So sweet!
Fatima Davidson: 91/2 months old! I think he is going to be a big boy!
Mira Medina: Our food isnt too bad. She is nfc mix. But have to be so careful.
Fatima Davidson: Mira Medina: Our food meaning your human food or your cat food? You are better off because you make them food from scratch! But in USA it seems like everything has pesticides or chemicals of some sort. We have "Organic Grocers" but I wonder just how mu…See more
Mira Medina: We are not allowed to use many of the chemicals you do in america
Fatima Davidson: Mira Medina: yes I know! That is one of the greatest drawbacks to living in the States! They are trying to kill all of us.It's very bad and as I said I really do not think fruit from Costa Rica or Mexico is chemical free no matter what they say!! I know I sound paranoid, but with " Organic Foods" being such a big money maker unscrupulous business owners will put ORGANIC everywhere!
Mira Medina: I wont buy organic as it tastes the same
Hattie Nguyen: The problem is that Wal-Mart won't reveal who makes it for them, and you can only contact Wal-Mart about it
Jordan Griffith: Make a post, spread it all over social media and ask your friends to share.
Mira Medina: I will find out
Mira Medina: Hattie Nguyen: it could be made by a company called ainsworth. They make some of the high end foods like rachels kitchen and blue buffalo and come up when i type in pure balance.
Hattie Nguyen: Mira Medina: I've looked at a few different brands and I believe that ainsworth was the one that most likely makes it, based on similarities in repackaging and ingredients…however, there isn't any way to know for sure, unless either company admits it…it kinda leaves all pet owners in a bind if it harms our pets…no way to take action to stop it happening again and again
Mira Medina: Alot of the sites i am on say ainsworth make it. I know of a couple of people as well as you complaining about it.
Hattie Nguyen: Well I told the pet store about it yesterday as well, and was told that they've heard of a lot of complaints similar to mine as well
Fatima Davidson: Hattie Nguyen: Are your poor kitties still having trouble eating? Hope not!Can you post the Name of the food that you suspect got your babies I'll?And if the pet food manufacturer knows that the food is causing problems it needs to be made known to pet own…See more
Mira Medina: It could be made with the rejected mixes from the top end brands
Fatima Davidson: Mira Medina: Yo think bad, possibly deadly food can be made and sold is OUTRAGEOUS!This needs to be shared all over the cat sites! Weather they are Ragdolls, or Norwegian Forest Cats, Maine Coon, …See more
Mira Medina: Yes def. We dont have access to this make here in the uk
Eli Boone: We had a problem when we were breeding we had to have 15 cats and kittens put down and treated the rest for 3 months we thought we were buying good beef only to find he was putting camel meat in with the beef to make it go further the trouble is camel meat is deadly to cats and dogs. So many breeders lost cats and kittens because of him. We have gone Back to the same place now as it has changed hands and the new owner is very particular about his meat. I hope your boys recover well. When we had cats or kittens that refused to eat we would give them nutragel they would lick it out of the tube the other thing to try is vegemite most cats like that and it helps them to get their appetite back
Mira Medina: Good lord. My meat supplier offered me camel just before xmas i rejected it as i dont know anything about camel and cats. Thank the lord i did. I will let them know.
Fatima Davidson: Melina McDougall This is outrageous! This pet food manufacturer should be prevented from making and selling ANY KIND OF PET FOOD!To think that you lost so many sweet beautiful cats is a sin!I guess human foods are inspected and they MUST LIST all ing…See more
Mira Medina: Camel itself isnt toxic but if australian camel they eat a plant that is toxic. I only really use human grade food that i personally would eat never fancied exotic meats. But the cats got some as a sample pack i refused camel from that it just didnt feel right same as horse.
Fatima Davidson: Mira Medina: You guys in Australia use camels? What for? Transportation ? Or food? Do people own camels like they would horses?Tell you the truth I thought just middle eastern countries still used the camel?…See more
Mira Medina: I am in uk. But in the australian desert they have camels. I dont know what the toxic plant is but i spoke to my cousin in aus who told me what the issue was
Fatima Davidson: Mira Medina: Frightening! Just like with human food it's hard to get pure non chemical & pesticide free. I find that because the ORGANIC CRAZE is so big, that as usual there unscrupulous manufacturers and outlets that will sell food that they know is …See more
Mira Medina: Yep. I buy what i would eat have a good relationship with my butcher
Fatima Davidson: Mira Medina: What exactly do you buy from your butcher? And do you feed them raw meat or do you cook it ! I would like to try this BUT when my rescue was sick and not eating I boiled chicken in chicken broth for him and I offered it to my Ragdolls and …See more
Mira Medina: I get the same meats i eat plus chicken livers and hearts and chicken bones. Some i give raw but some i pressure cook and grinder takes 2hours. For fussy eaters (my adults) i add in fish in tomato sauce. I add 1.5pints of plain water. I mix in with com…See more
Fatima Davidson: Mira Medina: And when you cook in bulk once a week do you find that the extra keeps well in the refrigerator?My bet said he has treated many cats that got sick from Taw feeding cats because the extra tends to go bed in fridge between cooking New food….See more
Mira Medina: I use on day of cooking put two days in fridge and freeze the rest the jelly gets mixed in when packing up. If you want to try again pressure cook and grind up like minced beef as in hamburger. And mix slowly into there normal food. I have one if i dont mix i am poisoning him.
Fatima Davidson: Mira Medina: Well that is a great idea! If I slip it into their food they will get the benifits of good healthy foods, and it will be slowly mixed in!I had a cat that got injured and he was failing, I made prided chicken livers and he loved it and his coat got so shiny and full it was fantastic, plus it healed his injury's really quickly!Do you add vitamins to your home made foods?
Mira Medina: No as they still get commercial but about to start adding cod liver oil in to help smudges eczema. I will never go completely raw or homecooked as worried about important amino acids and taurine
Fatima Davidson: Mira Medina: Doesn't " Hi-Vits have both Bi Timon's and minerals in it? My kitties can not even stand the powdered flora I should put a full package in food everyday, but they taste it and then won't eat!!So I put a half pack into 2 dishes of food eve…See more
Fatima Davidson: Mira Medina: I have a friend who has excess and she takes cod liver oil for it, she says it handles her excess better that ANY OTHER medicine she ever took
Mira Medina: My routine bare in mind 5 cats and 1 is vastly underweight is cat milk mixed with water raw egg yolk and kefir at 7am. 50g home cooked mixed with 400g tescos food(this has 40% meat in and is a shops own brand here). Lunch is raw whole prey ( fussy bag…See more
Eli Boone: Fatima Davidson: the pet food supplier went broke and sold out to the person we now buy from. We also found out that what we thought was good for the cats was His mixed meats as it had liver and kidney in it but when questioned by the new owner as to what he put into it he was putting all the waste meat including abscesses I nearly died from shock when he told me,
Eli Boone: Fatima Davidson: we have wild camels a left over from the early settlement days when they used camels for transportation across the desert then they were abandoned to fend for themselves and they just multiplied and multiplied, we have many native plants t…See more