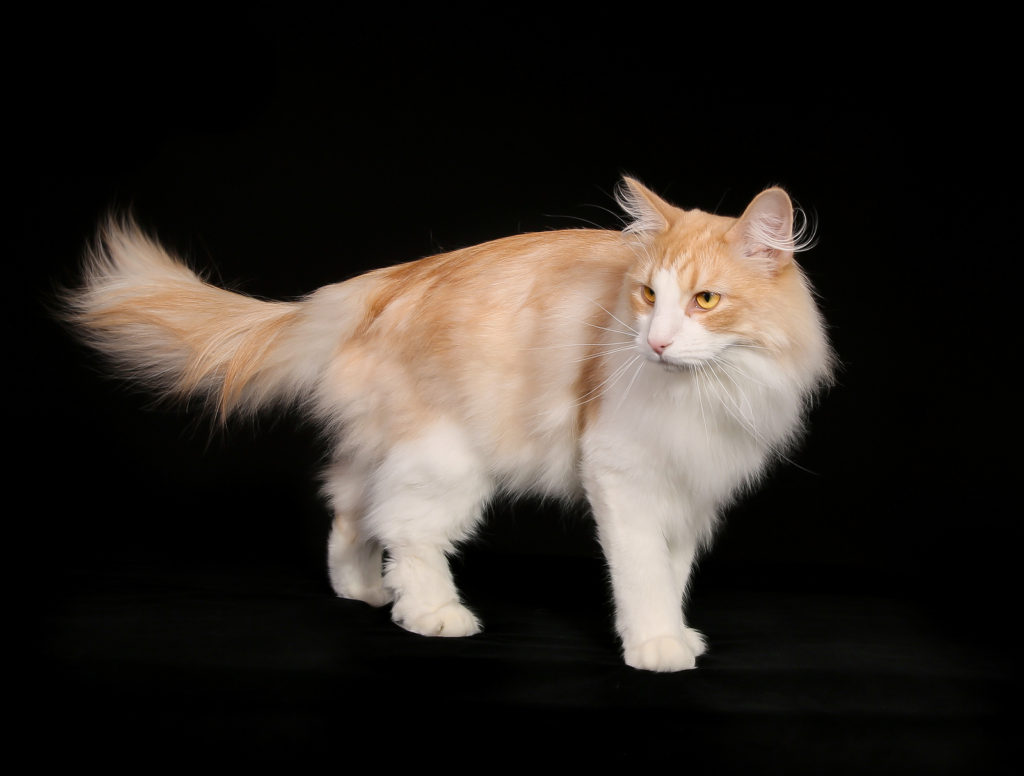 Question. Are female ginger cats rare? Even with a pink collar with flowers people refer to Lily as a boy and are shocked when I say she's female. I know calico cats are predominantly female but never heard this with ginger!!!

Kaydence Dean: approx 33% of gingers are female 🙂
Amy Holt: Pure ginger females are very rare. Ginger females almost always have white on their bodies as well and even they are much less common than ginger males.
Jordan Fisher: Lily is a rescue so we don't know her heritage. The shelter thought she was norweigan but i think she's a mc cross. 15lbs of pure floof… and she has obvious eat tufts. We adore her regardless… even if everything is covered in ginger fur right now!! (she's shedding like crazy)
Amy Holt: She's beautiful
Phoebe Carroll: Both parents must have red in their colors to give birth to red females kittens.That's why you see them less often 😉
Reagan Gross: Our Kitty, solid red. My very first NFO also was a red but she was a tabby with white and very light red
Reagan Gross: Kitty had a red solid with white sister as well and 3 red brothers, one brother was black and white, the mom a solid tortie with white and father a red tabby. Mary decided that a litter of reds would be nice, so just one was black and white for fun.
Reagan Gross: 3-4 weeks old
Reagan Gross: Difference between solid and tabby in red, Kitty (right) with her tabby red (no white) brother Otto on the left. Solid reds have darker colored chins and tabbies have a lighter ring around the eyes.
Camila Sanchez: We had a ginger female, sweetest little kitty who passed away at age 18. I read that ginger females are 1 in 10,000.
Kaydence Dean: much more common than that, we run a rescue group & recently did our 12 month figures of male / female & colours & it was pretty well spot on at 1 in 3 gingers being female
Reagan Gross: Myra, our first lady. Great great grandmom of Kitty.
Jordan Fisher: That's interesting… maybe i I'm wrong with my breed guessing… myra head shape is identical to Lily.
Reagan Gross: Myra was from 1994, she also had a slight dip in her nose. What we would call old look. Kitty has a better shape head, also old look but straight nose and stronger chin.But I loved my princess, she was so very special to me and adored me in return. She started my love for the NFO and all my girls I have now are her offspring.
Jordan Fisher: Lily had horrendous gingivitus when we got her and had all but her front teeth removed so we can't really judge on her face shape as it changed so much. Regardless though we adore her … she's a little sweetheart considering how neglected she was when she first arrived. She's a pampered princess now lol
Reagan Gross: ah poor girl…We had a Lily as well, she was black smoke with white and the biggest girl I ever seen, over 7 kilo pure muscle!
Lydia Riley: My Neela is a cross ❤️ when we got her we thought she was just a fluffy kitten but she definitely has the nfc characteristics ?
Reagan Gross: Kits close up, see the freckles she is getting. Most ginger cats have them, if the red reaches the nose that is! Others only have them on the lips or round the eyes.
Olivia Bryant: Debra Marmalade!
Willow Weber: We have two red females. No white. One male red, no white.
Barrett Stone: OMG looks just like my paddy!!!! Do you have a face pic
Jordan Fisher: Not best pic lol… she's grumpy when you wake her up ?
Josue Townsend: More male gingers for sure. I had two females at one time but most of my gingers have been male
Cassidy Walters: Here are our ginger sisters, Hazel and Hester!
Itzel Fleming: My little girl, named Ginger (obviously not NFO), is a little red head. She's a daddy's girl and let's her foster mom give her baths.
Macy Gardner: The reason that red males are more common than red females is that the red colour gene is sex-linked (located in the x chromosome).So a female needs to have tortie+red or red+red parents to be red. If a female only inherits the red gene from one parent, it will be tortie. While a male only has one x chromosome, so if it inherits one red gene, it will be red.
Teagan Payne: I've heard that ginger females are rare but tortoiseshell males even rarer