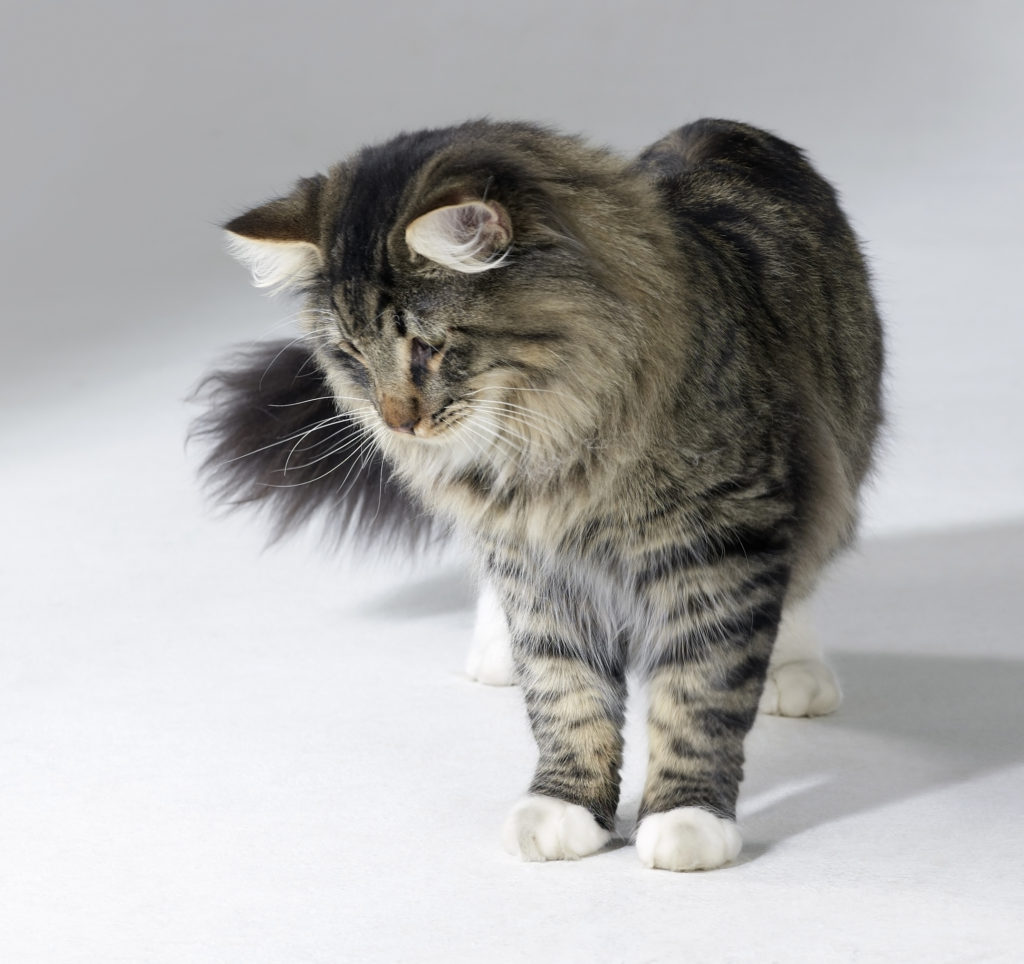 Do you bathe your kitties? And get their hair cut?

Charlee Harrison: Only trim pantaloons , and nails
Emily Fields: Nooo
Weston Adams::
GIPHY
Gracie Lewis: I Vaguely remember my mum doing it once to our cat because he came in covered in oil and she knew it would poison him if he looked himself clean. It was about 40 years ago I still remember the scratches on her arms poor mummy!
River Brewer: We give out cat, Norway, a monthly bath. We started this routine when she was a kitten. Norway actually relaxes during her bath as if she were at a kitty spa! She doesn't get her fur cut.
Rylee Reed: Why do you bath her?
River Brewer: Rylee Reed: We started bathing our cat, Norway, as a kitten because my husband has allergies.
Maria Lowe: No never , I need my limbs ! I've only had to get wet wipes out for 'poo clingons ' and the odd trim of the pantaloons when needed .Just a good brush every other day .
Weston Adams: Same here Maria Lowe:.The odd wet wipe, and a brush. Had to put a shower head on our previous NFC due a tummy upset…but we nearly died…
Aaron Hall: I do a wet groom twice a month and use bath wipes in between. I trim her back side to help with cling ons but that's it.
Miles Wise: Bathe yes clip them no
Alessandra Cox: He's 3 years old and I've only needed to shower his pantaloons once when he's had a upset tummy. Change of food issue. No trimming. No showers or baths.
Alice Carson: NO
Rylee Reed: Why would you? They take very good care of themselves… Only brush a little.
Anthony Morgan: No ther cats not dogs
Kara Warner: No my boy maintains himself very well we brush him every other day for excess tufts but apart from that not a knot to be seen. He is very clean does not need a bath!! ?
Johanna Stokes: My little boy loves showers, if I forget to close the door he will jump right into the bathtub – or sitting next to me in the shower ? And he is okay with the hairdryer too
-0:51
Play
Mute
Additional visual settings
Enter fullscreen
Lukas Torres: That looks so relaxing
Johanna Stokes: it is for him, sometimes he almost falls asleep ? and he is the only one of my 4 NFO that loves bath time so much❤️
Jason Sparks: So relaxed.
Edward Ryan: Omg!! ? That's amazing!
Johanna Stokes: He is just such a sweetheart ❤️
Yaretzi Paul: It's probably like a nice massage. That is so cute
Connor Pearson: No I never ever do….
Hadley Hunt: Never
Melissa Warren: My nfc is 15. She has arthritis in her back legs and doesn't clean herself very well. We use wipes on her and take her to a groomer once a year to get bathed, teeth brushed and her pants area trimmed so its easier for her.
Lukas Torres: Yes to bathing. She's a free roaming Queen and gets into things. Like last week we got our oil tank filled and oil must've been spilled down the pipe and she rubbed up against it. Came in smelling like diesel.
Lukas Torres: Never trimmed.
Alayah Colon: No, daily brush and a clip at the groomers for the matted lumpy bits our girl gets
Amir Wood: ABSOLUTELY NOT JUST GROOM HIM ABOUT TWICE A DAY WHICH HE LOVES
Related Post Dixon: Bathed about once a year as my big boy is fastidiously clean unlike my slovenly Persian girl.My gang gets a sani trim periodically which I do myself
Josephine Hale: I have 5 indoor cats and none of them get a bath as in tub. I have a shampoo that foams and they get wet, but not as in the tub. I do have two cats part MC and they do like water, but not get a bath. The foam shampoo is great. I brush my cats quite often; they love it. I also use dental wipes instead of brushing their teeth; much easier.
Paul Blair: Bath yes once a month, with some trimming for sanitary reasons, brush sometime because she doesn't like it. Other than that she is keeping herself clean.
Annalise Evans: We use to get our Cody groomed and a lion cut in the spring and fall
Mary May: Our Louie loved his bath, the blow dryer, not so much. Treasure told me after her first one that another wouldn't be necessary because she likes to take her own baths with her tongue
Nevaeh Long: Never
Kyla Schultz: I have bathed other cats I've had–including NFC–but our Beryl is fastidiously clean. She has amazing long 'pantaloons' on her behind and legs and it's always spotless no knots nor problems. Never had another cat with such amazing self-grooming. She's 7 and we have had her since she was 2. Only area we help with is keeping her long mane brushed out since it can occasionally get tiny chest knots at the skin which I would think were painful.
Jason Sparks: Yes. Every 10-11 weeks. We have a mobile groomer who comes to the house
Aurora Erickson::
Aurora Erickson: I'm not that brave.
Rosalie Warner: Only the poor poor tongueless kitties get bath and haircut around here.
Daniel Woods: Nope. They do very well on their own. Their saliva provides the protection they need to insulate their coat and keep their body temperature regulated. Unless they are covered in feces due to illness, I see no need for it.
Oscar Alexander: Never
Israel Johnson: Tried. Was shredded by claws.
Israel Johnson: Foam rinse less shampoo is my friend
Gracie Morris: Like "Dang it, woman, leave me alone…I GOT dis!"
Israel Johnson: I wish my babies liked it!
Emmanuel Tucker: I do they enjoy it… plus my kitten does not pay enough attention to cleaning his butt
Nicholas Mckinney: I've bathed all my cats in the past but not my NFC kitties
Gracie Morris: Nope. In my humble opinion, they are CATS. They've been taking care of that part for a lot longer than humans have been around. It's like brushing their teeth…reallY?? Yes, they have plaque and stuff just like we do but they do not have the life longevity of a human who needs to take great care of his/her only set of teeth in one lifetime. Help them with mats and shedding? Sure. Maybe even to the point of having them shaved if necessary — but bathing? Teeth brushing? Not mine. And mine tend to live a long time (14-20 years) and when their bodies do expire it's usually just simply age and heart, although one time one of my babies had a liver issue. It was not because of lack of hygiene!
Lane Kennedy: Never
Adriana Pais:
Carter Fernandez: Nope me neither. unless there is a tummy problem, then needs must, trim pantaloons myself to aid cleanliness but they do a good job of keeping themselves clean, regular brushing a must though x
Karla Phillips: After a long roll in the dirt last year I took my cat Moxie to the groomer for a bath. She acted like she wasn't thrilled, but when we got home she had more sass then before!
Peyton Lowe: My niece
Karla Phillips: Moxie after her bath at the Groomer:
Colette Tate: No, neither. I'd never cut my cats fur, and they would punish me swiftly and with rancor if I tried to bath them. I'd be shreaded after the experience.
Alejandro Lyons: Only for cat shows.
Jayla Howell: I bathe all 4 of my cats, but started them as kittens so they don't mind. But I'd never cut their hair. I can't really think of a logical reason to.
Yaretzi Paul: No. Daily brushing keeps them neat & sweet ?
Daniel Woods: My kitties LUVVVVs their brushes. There won't be a kitty in site and all I have to say is "who wants brushes" and I am instantly surrounded.
Yaretzi Paul: Cleo loves being brushed and like your kitties Daniel Woods: will come running when she sees the brush. On the other hand Pippy hates being brushed and growls when he's even catches sight of the brush. But once he's eating we grab the opportunity to get the job done ?
Daniel Woods: I have one that you can only brush her face. I do a couple swipes down her back and sides and then she catches on and it's splitsville. The other one will flip and roll and make sure I get everywhere possible.
Edward Ryan: Odin loves being brushed so much that it's his reward for coming in when he's called. ?
Daniel Woods: We did brushes and then treat with canned catfood. Now its the other way around…..lol
Yaretzi Paul: Daniel Woods: spitsville ?? Love it ??
Daniel Woods: Yaretzi Paul: hahaha…..far out, hey? Lmao!
Edward Ryan: No. That's only necessary if they can't clean themselves adequately due to illness or a run in with something they can't or shouldn't lick off themselves. Shaving is only necessary if they get mats.
Camille Barber: Only a few times for my white boy before we went to a show, mind you only then. When they get older they do get a accident once in a while, then just the pants. Never cut any hairs, accept again that white boy. His hair was so long it toughed the ground when he walked and his manes were always in his mouth, my fluff-ball he was. Right now I have an old girl and since she became ill (cancer, it already has spread alas) her coat is a mess. But we can keep it ok with a bit of dry shampoo every 3-4 months.But normally cats can handle it pretty well.
Gracie Lewis: I barely bathe my kids because of all the grief I get … I'm hardly gonna start bathing my cats with those tiny razor like claws. I'd like to keep my skin on thank you ?