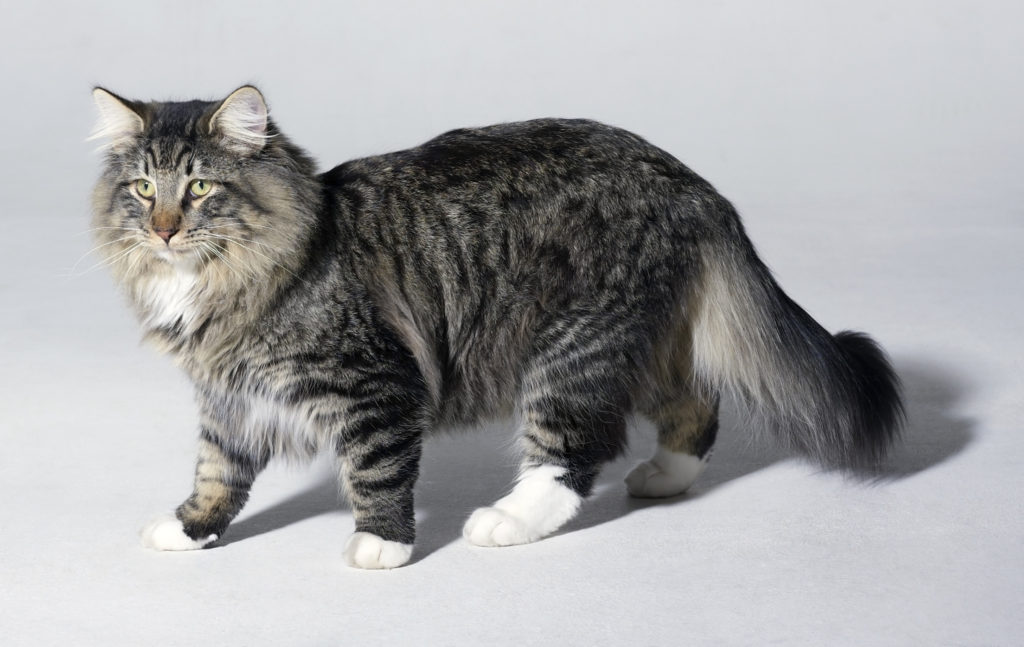 Weird question time! Would or can a cat logically think. Thor seems to be trying his hardest to befriend Lilly. Sitting and staring didn't work… being cute and silly kitten didn't work…and we won't speak of the pounce on her to get her playing episode… not pretty and never repeated ? He's started what I can only describe as sharing his toys!!! He has been taking his favourite toys and leaving them at the top of the stairs where Lilly likes to hang out. Coincidence or a conscious effort on his part to make friends?

Knox Sherman: I don't know sorry. But how cute ??
Janelle Barton: I wouldn't be surprised if they can. It's very cute he's sharing his toys.
Tristan Rhodes: I would never underestimate the intelligence of cats.
Tristan Rhodes: I would never underestimate the intelligence of cats.
Angel Vega: Conscious, mine r free roaming and they've bought kill home before and given it to the newbie…..and I've had another cat who joined my lot wen he was 5 and he shared his kill to b excepted xx
Ariyah Owens: That is so sweet!
Jose Hughes: Awww of course they can … animals are way smarter than humans give them credit for … do you have a pic of them both ?
Madeleine Hubbard: Not together lol… but this is Lilly
Madeleine Hubbard: And this is Thor
Jose Hughes: Madeleine Hubbard: is there about two years between them ?
Madeleine Hubbard: No lol… Thor is 8 months and Lilly is 11 years. Lilly is the new one we adopted 4 weeks ago
Jose Hughes: Madeleine Hubbard: it's great Thor is welcoming her it will take her a little to settle in and kittens can be annoying to older cats lol
Simon Schwartz: Yes, very intelligent and calculated thinkers.
Adriana Sharp: In the uk cats are recognised by law as sentient beings.
Lyla Porter: Of course they are capable of logical thought, that's why they are pets, would any of us want a huge lump of fur that was thick as a plank?
Madeleine Hubbard: I've had a few lol…
Lyla Porter: Well,yes, so have I but we don't talk about that! The two I have now are clever enough to act stupid
Emerson Russell: I definitely think they are very clever creatures. My Vegas had to go to the vet yesterday as sadly his skin disease has come back and he got a steroid injection and afterwards he wouldn't leave my side all night as if he thought he did something wrong to go to vets and was apologising. So sweet.
Adriana Sharp: What is wrong with him. As my smudgy has skin issues. Millary dermatitis and fad.
Emerson Russell: Feline idiosyncratic ulceration dermatosis
Emerson Russell: Luckily we have good pet insurance to pay for this all as it will be ongoing. He's been off his medication several months and started recently biting behind his head again. This was diagnosed with a cut of his skin and sent to lab (forgot the technical words as this seems ages ago).
Adriana Sharp: Oh bless. Have you got him on a grain free food as it seems to help.. the back one is smudge the one who looks moth eaten. He pulls his fur out when he gets flare
Nyla Ramirez: Adriana Sharp:, can I ask what your vet does for Smudge when he breaks out? My Abby has miliary dermatitis and other than grain free food, we were not told any other info. Sometimes the breakouts are quite bad.
Adriana Sharp: When really bad he has a jumper on to stop him full scratching. He gets steroids for 5 days and on hotspots we use johnsons tea tree cream. He also gets dry bath with a colloidal oatmeal shampoo. His wet food is homemade chicken or fish with sweet pot…See more
Nyla Ramirez: Thank you. Abby is a rescue from a feral colony and has only been with us a few months. We are a work in progress. 🙂
Adriana Sharp: Slowly slowly.
Emerson Russell: I use Norwegian Forest cat food from science diet. I'll have to check re grain free. He's on Gavapentin (which is a human medication) to stop his scratching.
Adriana Sharp: Oh god lord the new valium has made its way in to animal medication. Lots of better ways for the vet to treat this. Raw food is best but grain free is ok.
Emerson Russell: It's an epilepsy medication. Gabapentin
Adriana Sharp: Yes i know also given for anxiety and chronic pain syndrome
Emerson Russell: Is it not a good medication?
Adriana Sharp: No it isn't hun extremely addictive even in pets ask to wean him off it. Get hold of some small dog jumpers for when he is scratching. And go grain free and add in omega 3 and 6oils
Allison Thornton: I did the self aware tests on my cats and only one seems to pass. Funny because I hear cats and dogs don't pass. But one of mine has.
Adriana Sharp: All 5 of mine pass
Allison Thornton: According to new studies the mirror test isnt considered accurate. Have you tried the others?
Adriana Sharp: No not yet but in uk recognise them as sentient beings
James Logan: He is really trying hard to gain her friendship. Bless his heart!
Jackson Carr: Oh be still my heart ???
Tobias Lane: Kris ❤️
Paris Blake: Has lily ever swatted him or hissed at him? What are their ages?
Madeleine Hubbard: Yes. Every single time she catches sight of him. They can be in the sane room together for a minute or two now but she still attacks him constantly. Lilly is 11 years. Thor is 8 months. Lilly is the new cat
Paris Blake: Madeleine Hubbard: Did you use the Shelter recommended method of introduction? You know the one where you keep them separated by rooms and then have them meet gradually after they've gotten used to their scents etc.?
Madeleine Hubbard: Yes. We did it no contact for two weeks with scent swapping etc followed by gradual introductions. She wants zero to do with him. No matter what he's doing. He can be asleep and she'll hiss at him.
Paris Blake: Madeleine Hubbard: When she was in the room by herself, was she visible to him and he to her at any time or did he simply know she was in that room by her scent?
Madeleine Hubbard: Well they saw each other through the doorway and obviously when we did the introductions using a stair gate. She has no problem with his scent. I can brush him and immediately use the brush on her with no reacting on her part. Just sight. She hisse…See more
Paris Blake: Madeleine Hubbard: When he first saw her or scented her, did he ever respond by hissing at her door?
Madeleine Hubbard: No he's never reacted badly except wanting to say hi and play. He treats her the same way as my daughters 4 kitties he plays with.
Paris Blake: I have to get my wife to work, but I would like to chat with you about this again in a little while if that's okay? I will be back in about half an hour. Its 5:55 my time right now.
Madeleine Hubbard: Yah that's cool ?
Paris Blake: Sorry for the delay, I'm finally back. Its cold out and I stopped to get a large espresso. Well anyway where were we? Ah yes okay, let me see are Thor and Lilly the only two cats that you have at home?
Madeleine Hubbard: Yes they are ?
Paris Blake: Madeleine Hubbard: Okay so let me get this straight, you said that she was around 11 and had been rehomed by people who thought she had been feeling harassed by a dog? is that right. Is that all that you know about her past?
Madeleine Hubbard: No. We adopted her from a cats protection centre. They said a lot of things that have been proved wrong including her age. They Saud she was 8 years but when her microchip info came through it said she was chipped in 2007!!
Paris Blake: Oh wait sorry that wasn't your cat, I got it mixed up with another posting. Sorry.
Madeleine Hubbard: She was handed in after her owner was taken into care they said.
Paris Blake: Okay so that would make her more like around 11 or 12 maybe. So she could have gone through a lot by now, and do you know whether she'd been pregnant and had kids possibly even in the recent past? Did the previous owner of Lilly have only her?
Madeleine Hubbard: Don't know. She's definitely spayed… The centre couldn't find a spay scar so they cut her midline to check. She's a bit messy with chunks cut out all over. Obviously had tangles they just chopped out
Paris Blake: Madeleine Hubbard: My vet was able to tell me whether a my cat had ever had a litter and he didn't believe she'd ever been pregnant at all. So anyway the reason I had asked was to find out how socialized she was. Whether she'd ever experienced motherhood or …See more
Madeleine Hubbard: She doesn't have any signs of having kittens. I have a vet check for her tonight so I can ask
Paris Blake: Madeleine Hubbard: Yeah, that might be a good idea, although if she had been alone for a long time she may never have had the opportunity to be pregnant. If that was the case and she spent years alone with an older person who had their own issues, she may ju…See more
Madeleine Hubbard: Luckily this is a small shelter and you can only view by appointment. They list them online as available. She is affectionate towards us and is happy to wander around the house. A little bit j jumpy with some sounds… but then Thor jumps at the vac…See more
Paris Blake: Madeleine Hubbard: For cats, position is everything. If another cat as you said jumped up after the fact or stood up in her presence, she might feel threatened because she sees the movement and immediatel sizes it up as a threat. Any cat that maintains a sup…See more
Paris Blake: You know what, when I got into telling you about my two cats, I totally lost the point that I was trying to make about position. Coco has some similar behavior to you Lilly, only maybe not always as testy. Sometimes when I'm watching Coco and Oscar int…See more
Madeleine Hubbard: That made me tear up. I did the same for Thor when we lost our beloved Beau. We brought him home and let Thor see him. He licked him and whined and tried to nudge him up. It was heart breaking to watch. Why we decided to get an older cat to complet…See more
Paris Blake: Madeleine Hubbard: From what you describe, it looks to me as if she has been struck by others. Perhaps she's afraid of people now because she thinks they'll all hit her. This is why its always a good idea to ,move around her carefully and not come at her fro…See more
Rylan Willis: Cats are very smart.
Alan Frank: I have one that thinks logically about getting into things….the only way to keep him out of doors and cupboards is to put padlocks on them…..even some of the easy sliding windows he has figured out and forget drawers, they are a snap.
Cecilia Cooper: scent swap. make him smell like her
Wesley Hall: I'm sure they can work things out and reason. Our kitten "lost" her tinkly ball under the CD shelves yesterday and, after leaving her to try and get it for herself with her wee short paws, Frankie got fed up with the scratching, bumped her out the way, hooked it out and then wandered off to restart his snooze.
Oakley Wade: Absolutely conscious. This is why a cat friend is so great. They establish heirachy and teach each other manners.
Kinsley Ellis: They can watch and learn to open doors by trial and error, and improve over time, remembering what works and what doesn't. So, it seems they have the capacity for logic. I wouldn't be surprised at all if that's exactly what he's doing.
Serena Miller: I believe cats are highly intelligent. People think cats are "stupid" because they don't do what we tell them to. They just don't want to do what you tell them to…LOL. Anyway, we've owned cats for over 20 years & I have seen them problem-solve many times over. They are so smart. 🙂 <3 Paris Blake: I'm sure that that is largely true, but there are things that only they can teach each other,and if we begin their lives by ripping them away as fast as we can from their parents and siblings they begin with a crutch. Sometimes that crutch can be very …See more
Nadia Conner: My nfc has been doing all this for over a year to try to swoon our other kitty. Still not working also !
Madeleine Hubbard: Oh no!!
Scarlett Buchanan: Thor sounds like a total sweetheart! Lily just doesn't understand yet what a wonderful kitty friend she will have, but it sounds as though they are making progress. Have you heard of Tellington Touch as a way of calming animals? I think it's more frequently used for dogs, but a friend who is a certified practitioner did a session with one of my cats who was stressed by illness. I don't know if there is a way to use it to help animals accept each other. This is a website that explains it and has a list of practitioners. Ttouch.com
Tellington TTouch Training™
ttouch.com