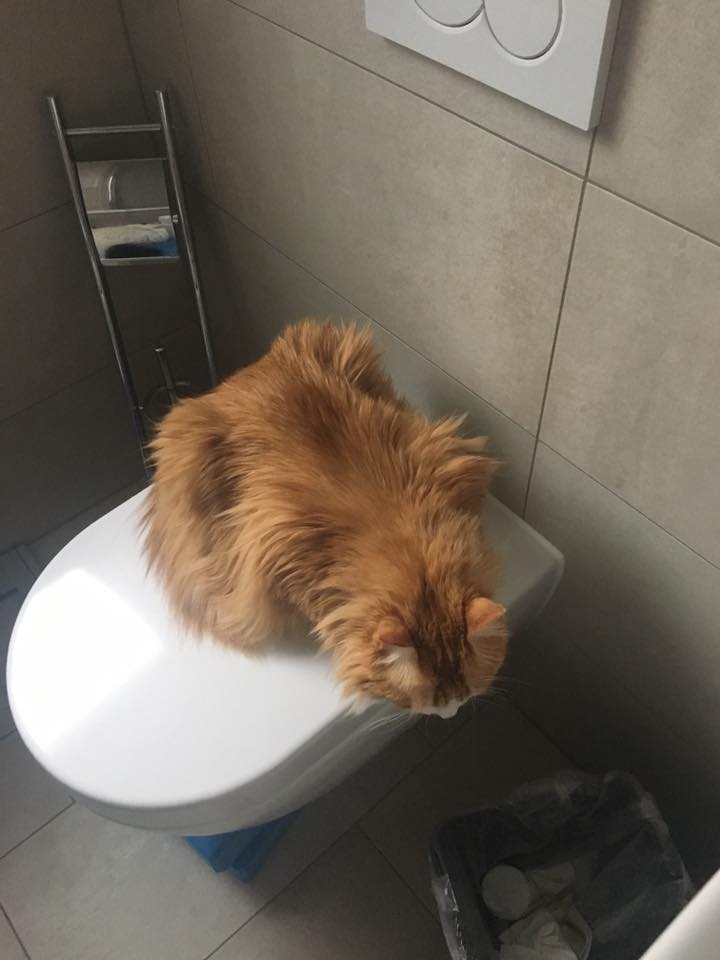 Rachel Parker: Bigger is better
Ling Shaw: Almost 7kg?
Rachel Parker: Must weigh our beauty. Just know she's big and beautiful
Heather Mc: Too big? Naaah
Melanie Curley: Love her coloring,
Carol Sullivan: Beautiful & looks like my Misty. Just cut back on the food a tad. I feed 1/4 C each in AM & PM. Mine do not usually have food out all the time, they eat their food within an hour.
Keith Pierce: The German toilet. I went to Germany once to teach a class for my company. I was invited to the house of one of the students for a gathering with the students on the day I arrived. I used their toilet but then could not figure out how to flush it, no handle.I stayed in there because I was embarrassed. Finally someone asked me what the problem was and then told me to push the big square thing on the wall.I will say this too. German toilets are always clean, even in a gas station, they are sparkling clean. I was impressed.
Ling Shaw: Hahaha. They are also set up very tall for the people short like me. I had to buy a child stand ?
Keith Pierce: I didn't notice that.
Ling Shaw: Keith Pierce the problem is I'm considered tall in Asia but in Germany everybody thinks I'm tiny ?
Keith Pierce: When I lived in Japan, the old people were very short, but I had to look up to a lot of the young people, and I am 6′ tall. I think the German toilets are mostly at the handicap height. I use handicap height toilets in my house. They are more comfortable.
Keith Pierce: Sorry to get off topic, three weeks in Germany and the thing that stuck with me the most was how clean everything was, especially the toilets. I stopped at a gas station to use their toilet and I saw a sign that said something like it is your responsibility to help keep the bathroom clean, and it was only in English. What do you think they were really saying?
Ling Shaw: Keith Pierce really? I've never seen that kind of sign in Hamburg. Everything is in German. Public toilets are very clean but they charge far too much( 1 € something) so I never really use it.?
Ling Shaw: Keith Pierce indeed. Japanese toilets are famous around the world. Chinese people are crazy buying them.
Keith Pierce: It was a gas station in Frankfurt near where the A4, A5 and A6 come pretty close to each other. BTW, beautiful cat. I just picked up this one.
Ling Shaw: Keith Pierce just like my nemo?she was a street cat in China before we rescued her.
Keith Pierce: He was trapped at a construction site, sent to the local shelter where they were going to euthanize him for being too wild. He is still a work in progress but he is starting to come around.
Ling Shaw: Keith Pierce it will take some time. My meow meow was like that. She was totally a monster until nemo joined the family ?
Keith Pierce: Well I think this little guy is just scared. He appears and acts like a kitten. He hisses and growls, but does not scratch or bite. When I pick him up, he starts purring. These are all defense tactics used by kittens.
Ling Shaw: Keith Pierce that's much better than my meow meow. She was crazy. We even used some calm drugs on her…?that wasn't not some happy memories. Only last year July, a vet in Scotland told us what's wrong with her, turns out she has a health condition wit…See more
Keith Pierce: My hats off to you for having the patience for a cat with those needs. Can your vet prescribe a beta blocker to slow her heart rate down?
Ling Shaw: Keith Pierce not really, it's a life thing, heart beat is just one symptom. All we can do is just keep feeding her. She's less angry when she's full?.
Ling Shaw: Keith Pierce by the way, this is meow meow. Very beautiful cat but also a very difficult piece of work?
Keith Pierce: Look at those eyes, wow. She could be a cat model.
Ling Shaw: Keith Pierce those pretty eyes can turn very evil as well?