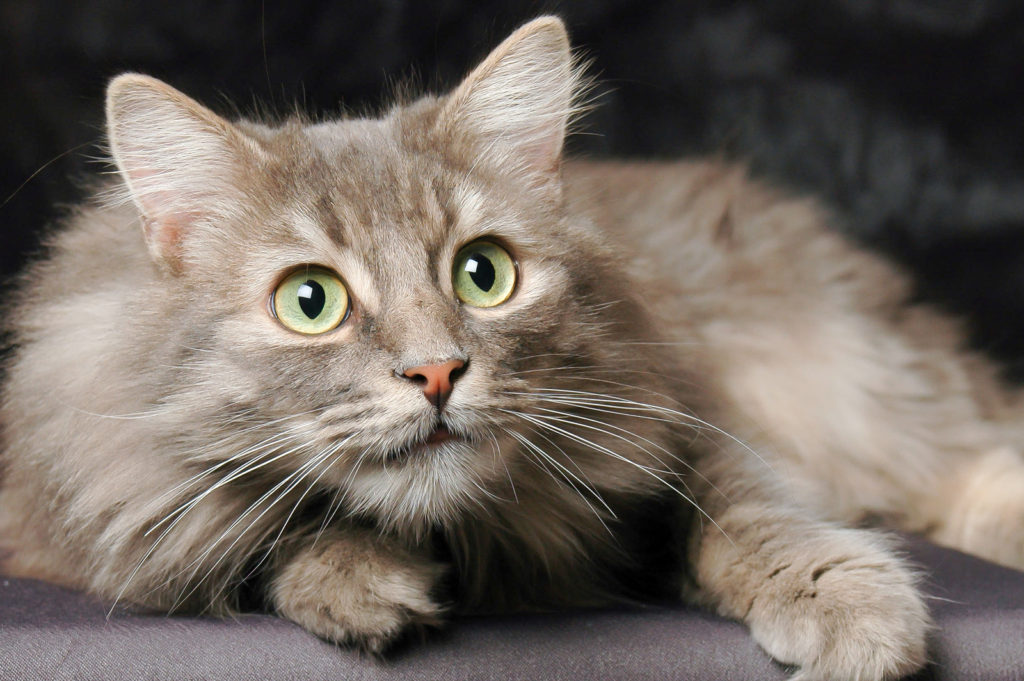 Last summer I took in a Norwegian forrest cat that was all matted. She ended up getting shaved over most of her body. I think she really liked it but she could have also just been happy to have a normal home again. With summer coming and her hair all over I need your thoughts on shaving her. Does anyone do this? She is an indoor cat only pic shows her with her hair starting to grow back. Super long now.
Nadia Rizkalla: I know someone who always shaved the cat in the Summers.
Lynn Merritt: In summer, I shave my nfc's belly
Wendy Rock Holub: That's what mine looks like now.
Lynn Merritt: I've shaved him because of the bad mats in his fur. Had to do that last year.
Gail Selaty: Why?
Mary Quinn: No..they regulate with their fur.
Stephanie Merl: I don't know a thing about cats (only just got my first), but I have a Norwegian Elkhound who is double coated and it is common knowledge with double coated dogs that you never shave them.
Fran Johnson: Exactly! Also had an Elkhound (wonderful dogs!). They do regulate their body temp with all that fur, both for warmth and staying cool. (One does have to use some common sense ie Norwegians are not the choice for hot climates!!!) ? Shaving either is NOT the thing to do!
Fran Johnson: Stephanie – I loved that dog like u can't believe. He loved and excelled in his obedience trial work. They are sooo smart, so funny. He was a big specimen – over 75 lbs, but thot he was a lap dog. Have so many funny stories abt him. Miss him, even after all these years. A wonderful breed!
Stephanie Merl: I'm fanatic for Elkies. My boy now is my heart dog. <3 Elkies absolutely believe they are lap dogs. 🙂 <3 <3
Carol Sullivan: Please don't shave her. She was probably just happy not to have the painful mats. Their hair helps to keep them cool. Cat hair is a part of sharing your home. Brush more often & use thin blankets on your furniture. I found them cheaply at Big Lots.
Wendy Rock Holub: I don't have a problem not shaving her just wondered if anyone else did. Thanks for the information
Jo Pope: Hello Wendy! We have a large NFC male that we shave 3-4 times each year for several reasons. 1.) He was literally gagging on hair balls, even with vet given hair ball prevention supplements. 2.) He constantly got 'stuff' from the other end stuck in the…See more
Keith Pierce: Jo Pope, NFCs are known for liking water. When mine got is poop in his "britches" (long fur around his legs), I turned on the water to warm and plopped him in the sink so the water just flushed the poop away. He just looked at me like he was saying "Oh boy, spa day".
Jo Pope: That is fabulous, Keith! I wish ours enjoyed water….he likes to watch it but won't have any part of being in it. He's a rescue & has several issues….terrible fear of thunder storms, having an empty food bowl and apparently, someone that he was very…See more
Dianne Jones: Me never
Wendy Rock Holub: I've only ever had short hairs so this long hair is new for me.
Carol Sullivan: I use a wig brush & my boys wait in line. If you brush every few days you will nearly eliminate hairballs. And those are a mess on carpeting. You can buy the wig brushes at pet stores or just a people one at Sally's, etc. they won't care which.
Wendy Rock Holub: I'll check that out. She doesn't have any hair balls now but I need a better brush.
A.J. Flick: Thanks for this thread. I've never had such a hairy cat before and she doesn't like to be brushed as often as I would like to brush her and she get mats. I've been selectively cutting them off – when she lets me – and was wondering about shaving. I won't get her shaved, but would like to take her somewhere to have someone else get the bad mats, especially on her hind legs. Do groomers do that? Is that bad?
Carol Sullivan: You must get the mats out or they could grow into the skin, not good. I use to cut them out with a claw clipper. Once they are gone then the goal is prevention. I use a wig brush and follow up with a comb. She will learn to love this. Try to take your …See more
Carol Sullivan: Here is the comb I use (from Petco, etc) & new brush from Sally's. Got it Sat, 2 for $10. The sale may end 3/31. Most any wig brush will do. They think you are just doing this to scratch them.
A.J. Flick: I have a brush similar to yours and she doesn't like it much. She will let me brush for about a minute, then swipes at me. She will let me pet her 24 hours a day. I'm thinking about at least getting one of those gloves that catches the hair. I got one for another cat a long time ago, tho, and she didn't like it.
Carol Sullivan: I didn't like the glove. Just keep brushing a little at a time. Pair it with a positive event. A treat or something she likes, even a deep neck & head scratch. My boys love have me clean their ears with wadded up toilet paper. I push it in gently & turn it about. That is the favorite thing ever.,Be patient, your cat needs time to learn to trust you. Others may have been mean on the past. It may take awhile.
A.J. Flick: She does trust me, she just wants the brush to rub her whiskers against after a minute instead of where she has mats LOL I've never tried using a comb, either. I might go ahead and get one like yours. 🙂 Thanks for your advice!
A.J. Flick: She also likes eating her hair. And chewing on mine. LOL
A.J. Flick: She also likes chewing on the brush. She's kinda weird sometimes. LOL
Carol Sullivan: She may like yours if you use conditions, etc. she may be eating her hair as part of her anxiety. Maybe she has been thru more than you know. But some cats just have anxiety. My Mac is that way & I got him at 8 wks. I used Feliway for awhile. With th…See more
Carol Sullivan: Esp the brush handle. Just getting to know the tools. They all do that. This is why I said have a chew toy handy. Lol
A.J. Flick: She purrs when she "grooms" me by nipping at my hair, and when she sees a clump of her hair on the floor, would she purr if she does it for anxiety? She had been picked on by other animals in her previous home, but I wasn't aware of any bad interaction…See more
Carol Sullivan: My cats eat cat hair off the floor. Purring is still being studied. She seems to have bonded well with you. My Misty is my shadow, definitely a lapsitter but will not sit on anyone's else's lap. Misty rarely purrs. Mac has anxiety & purrs a lot. Each …See more
A.J. Flick: Yes, she does like to hold hands! And she looks at me like my grandma used to look at me. She gets excited just to catch me looking at her. She also likes me to hold her like a baby. I didn't "do" that to her, She just starts out on my shoulder and then settles herself down into my arms like a newborn would. OK, this might sound crazy, but I think we used to know each other in a past life or something 🙂
Annette West: OH please don't shave cats, it's not good for them. My MC has very long hair and I just keep her brushed every couple of days and not mats!
Wendy Rock Holub: I've been using a comb. She doesn't like the brush I have at all but it was one I used On my short hairs. I do small sections at a time on different nights. But she will not let me get near her belly only her head neck and can comb down her back and maybe her tail at times if I'm quick
Waldie Muller Lombard: I live in Phalaborwa in South Africa, and our summer temprature is usually 100 degrees and higher. My wegie lived to the age 18, and loved the sun. I never shaved him, because NFC's have a double coat. Nearest to the skin is a short thick layer that protects them from rain and snow . I am not sure that this short coat grows back as thick after a shave. My Stefanus had a big operation after his hip joint was broken, and had to be repaired. His coat never grew fully back on this leg.