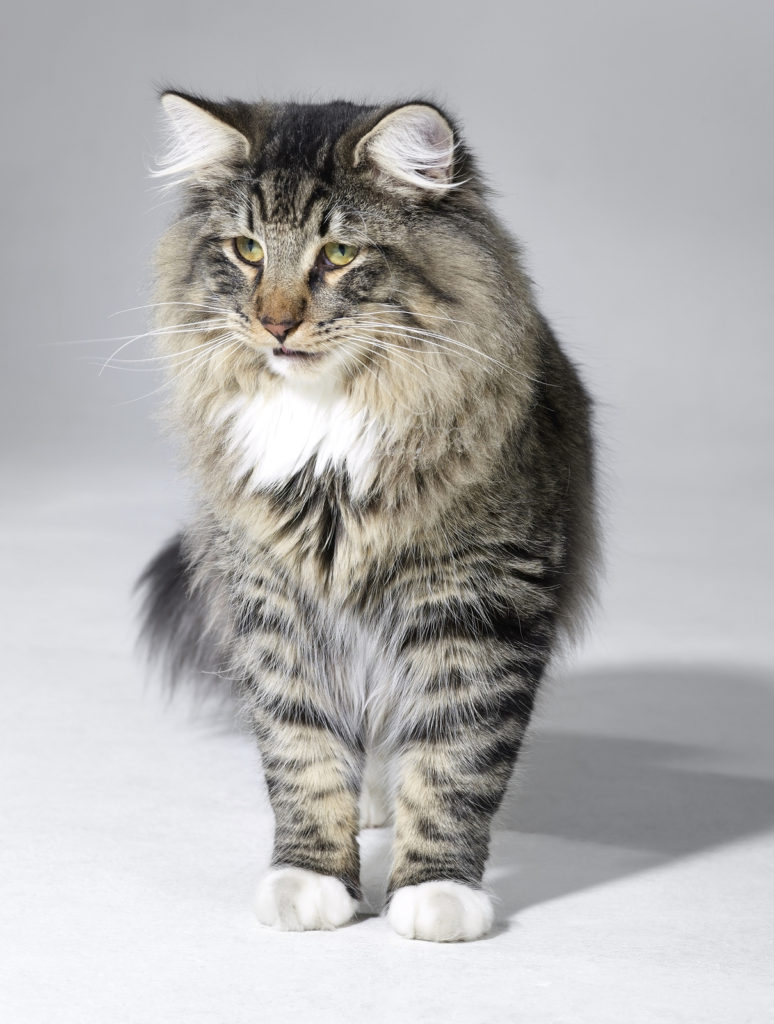 Are NFC very tolerant of dogs? my Jarl Gra, NFC rescue that is 3 years old, is reasonably tolerant of my older dogs…. we got a puppy and he is still VERY tolerant of the puppy. is this normal for the breed? realize the 8 week old puppy is the same size as the NFC because he is an English Mastiff pup. Today the pup walked over to the cat laying on the floor and stepped on the cat's tummy, the cat kind of gave him a look like "hey get off" with no noise or paw action….the pup left him alone…..

Charlie Phillips: They are generally very tolerant with dogs. A friend of mine had to stay at my house for a few months as hers was no longer suitable to live in. She had a German Shepherd who loves cats anyway. My wegie adored him as soon as he found out that he was a cat friendly dog.
Carlos Myers: Not had much contact with dogs, but what we have had has been very friendly. Well, in front of people anyway. Our daughter brought her chocolate lab over for the first time when he was very young and, the one time he and Frankie were alone in a room, a yelp was heard and the puppy was a great deal more respectful after that. We also made sure they were never alone again! Any other meetings with other dogs has been fine and Gwen was certainly determined to be best friends with the lab at Christmas.
Ella Sandoval: cool! as a rescue we were hesitant to see if he would fit in with our great dane and boston terrier (both understand a cat is not a toy and basically leave them alone unless they are sitting together). but then when we decided since all the dogs are old we would get a puppy while they are still young enough to handle it (then got a cancer diagnosis on the dane….) since the cat was reasonably tolerant…. just amazed that the cat did not swipe at the puppy (yes adults were right there to swoop in should issues happen, this happened at my husband's feet!)
Nova Palmer: I have 6 cats, one is a NFC and 2 German Shepherds they are all tolerant of the dogs, but the cats do rule the roost??it's how u introduce them tbh x
Travis Barton: My nfc and GSD adore each other it's so cute
Josiah Little: Depends on the individual cats personality
Kyrie Ryan: I find it so confusing to read comments about traits when I don't know which are about NFC and which are about DLH that look similar to NFC, but are called NFC.
Ella Sandoval: my cat has every marker but one to be a NFC-he has a bit of a stop on his nose, but has the "pants," paw fluff, ear fluff, triangle face, double coat, huge size, and the mane……
Janelle Roy: It does get confusing because many people on here seem to use the two terms interchangeably. Makes it harder to pin down traits that people post about being attributed to pedigree NFCs as opposed to DLH with an NFC look.
Carlos Myers: Ella Sandoval: this is the same for our Frankie, who we got from a rescue shelter and who just kept growing. I call him our Nearwegian and we have now got a Norwegian kitten so that he can have a friend on equal terms by size . That was the intention, anyway, but I'm pretty sure Gwen has him under the paw already!
Kyrie Ryan: When those same "markers" are so very common in DLH, it does not prove NFC ancestry. Proof of ancestry is the only absolute claim to NFC.
Ella Sandoval: Frankly since I did not pay for a pedigreed animal I "do not have a NFC" by most of the people on here…. I have owned Maine Coons (I live in Maine!) and he is NOT even close to a Maine coon in shape or attitude, does not have ear tufts at the points…See more
Janelle Roy: All are very special, Domestic Long Hair or otherwise! Certainly from my point of view I sometimes get confused with people referring to non-NFCs (I mean really don't look like them, just fluffy or big) as NFCs and then asking about breed characteristi…See more
Aylin Pittman: I don't think it was meant that way Ella Sandoval:. There is nothing wrong with part NFC, nearly NFC, all NFC, or not a cat in hell's chance could it be an NFC. All cats are glorious, and our own cats are always the best no matter what their history/pe…See more
Ella Sandoval: He took the cat bed…..from the short hair…. We got him a bed for in front of the cooler (cooler to hold the box for the cats!)
Aylin Pittman: Ella Sandoval: Awww cutie. What a lovely colour. Just gorgeous. You're so lucky. Thanks for posting the pic xx
Ella Sandoval: Aylin Pittman: the puppy is an AKC papered English Mastiff in a brindle color at 8.5 weeks. the cat there is a grey with white under and cream points NFC (as proclaimed by 2 different vets and the originating no kill shelter as an owner surrender)
Aylin Pittman: Both look lovely, love how they are looking at each other in the picture, it looks like they are having a right good chat bless them. It's good that you have a bit of history on the NFC then, did the shelter know the circumstances of the surrender? A l…See more
Ella Sandoval: I used to work at the shelter I got him from. they are great at keeping the information, the cat was an elderly woman's surrender by her daughter as the mom was being put in a home. if he had papers at home they were not brought with him. it was a c…See more
Aylin Pittman: Yes it's very slightly different here, if a previous vet were known then our current vet could get all the records held by the previous vet and could then tell us any information. Some cats are just like that to be fair. My two came to me at the same t…See more
Bethany Marsh: Buddies. They love each other
Bethany Marsh::
Bethany Marsh: An hour later they're snuggled as close as they can be without being on top of each other
Aleah Harper: Spends most of his time with dogs and acts like a dog
Nash Turner: We have a Rhodesian Ridge back who tolerates the cats(3). Mr Pudge likes him though.
Arianna Hill: Mine love our dog
Melody Waters: My boy Tor hates dogs, I don't know why because no dog has being mean to him. The breeder I got him from even had dogs, so he had grown up with them for 12 weeks of his life. He had no fear of them and will take them on no problem. He has gone for a husky and a French bull mastiff at the vets once. Thank goodness both dogs didn't attack him back and were friendly. My girl Anja won't attack them but she also won't give them the time of day. She just looks at them and walks off in a snobbish way.
Evan Ballard: Funny you said that my cat always goes for dogs and he even sniff their bums , he's so weird and I think the reason why non of the dogs attacked him is because they get shocked from his attitude and they don't know ho w to deal with it , it's hilarious ?
Melody Waters: Evan Ballard: it is hilarious. I do get embarrassed but thankfully the owners were understanding and thought it was just as funny. The dogs sure looked shocked. I'm just amazed that Tor has no fear. I think he thinks it's a challenge if some sort.
Evan Ballard: Melody Waters: I honestly think that NFC think they're a dog mine behave like one , he does the come , sit , up , roll over , give me a paw and play fetch and not to forget swimming in the sea ?? absolutely fearless and do couple of guarding tours before bed time hahah
Evan Ballard: I'm sure if he can bark he would hahah
Melody Waters: Evan Ballard: I do believe that they are so like dogs and very clever. I've only tought Tor to sit before his treat, then he gets it, if I take to long he swats it out my hand! And Tor also does the petrol thing before bed, every window ledge is checked.
Evan Ballard: My cat Bob is super tolerant with Gigi my dog it's astonishing how much shit he takes from her before he shows her he's in fact the boss , they're inseparable absolutely love each other's
-0:53
Play
Mute
Additional visual settingsHD
Enter fullscreen
Blakely Sparks: Our Pepe loves our two dogs (Mickey – 9 yo jack Russell x Staffy and Queenie – 6 yo Lab). We got pepe as a rescue cat just over a year ago as a kitten, he is 2 now. Pepe loves our dogs and they love him. Lots of game playing and snuggling. Never any scratching or biting, unless pepe is feeling adventurous and decides to bite Mickey's ear or chew either dogs wagging tail. The dogs are very gentle with him.
Phoenix Dunn: Bob (the cat) had been living with the dog for about 4 years ago they have settled into their routine very well. Every once in a while the cat has to remind the dog who's boss!
Beau Carson: Mine nearly killed a dog
Related Post Oliver: My yorkie is terrified of the cats! 4lbs vs 22lbs….the cats know he is afraid of them so they "pat" him every chance they get. No claws, just pats….you can almost see them laughing!
Jonah Phillips: Yes