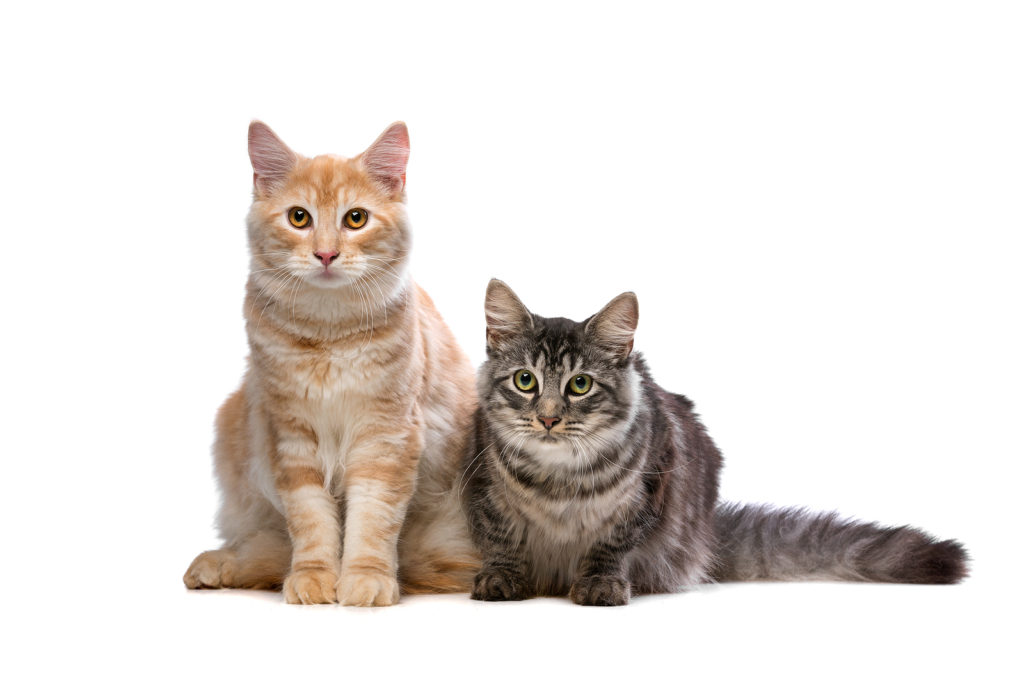 Norwegian Forest Cats and Maine Coons are thought to have a distant common ancestor and share many characteristics, but they do have several key differences. Norwegian Forest Cats are also known as Skogkatt (or Skaukatt in Norway), and are also fondly referred to as Wegie.  Maine Coons are sometimes referred to as Coon Cat or Maine Cat, Snowshoe Cat or Maine Shag, American Longhair and Gentle Giants. As their names imply, Norwegian Forest Cats hail from Norway while Maine Coons call the northeastern United States their home.
Both breeds are popular among fanciers, but Maine Coons are currently more popular in the United States while Wegies are more popular in Europe. In the U.S., the Maine Coon ranks as the third most popular breed, while the Norwegian Forest Cat ranks eleventh. Let's explore the differences between these breeds!
(Related: How to Spot a Norwegian Forest Cat)
Coats
The Wegie has a dense, heavy undercoat and a water-repellant outer coat that is soft, long and silky. Maine Coons have a light undercoat that is silky and soft too. While both breeds require similar grooming, Wegies shed less than Coons.
Facial Features
The Norwegian Forest Cat has a slightly triangular face and a larger head size than Maine Coons. Their noses are longer too. Maine Coons usually have a square or "wedge" shaped face and a medium size head. Their noses are also substantially shorter.
Colors and Patterns
Wegies are usually found in more than have a dozen colors, including:
black
chocolate
brown
cinnamon
fawn
cream
tabby
red
tan
tabby
white
Maine Coons are usually:
black
gray
golden
white
silver
Both can have similar bicolor or tabby patterns.
Size and Weight
While both cats are larger than other breeds, Maine Coons are generally slightly larger than Wegies. Maine Coons on average weigh 12 to 18 pounds, whereas the Wegie weighs on average between 10 to 15 pounds.
Personality
The Norwegian Forest Cat is not as much of a lap cat as the Maine Coon. Wegies are active, curious, intelligent, independent, agile, playful and social. Coons are independent, intelligent and gentle. They are generally not quite as active or playful as the Wegie.
Health Issues
Neither of the two breeds is hypoallergenic, but they both have health vulnerabilities. Norwegian Forest Cats are prone to retinal dysplasia and glycogen storage disease while Maine Coons are prone to spinal muscular atrophy. Both are vulnerable to hip dysplasia, polycystic kidney disease and hypertrophic cardiomyopathy.
Life Expectancy
Maine Coons usually live a bit longer with an average life expectancy of 13 years. Wegies have a life expectancy of 10 to 12 years.
Cost
Purebred Wegie kittens are usually priced around $650, while Maine Coons kittens sell for about $350.
Both breeds are generally very friendly with everyone, including strangers. They are particularly sensitive towards their immediate family.