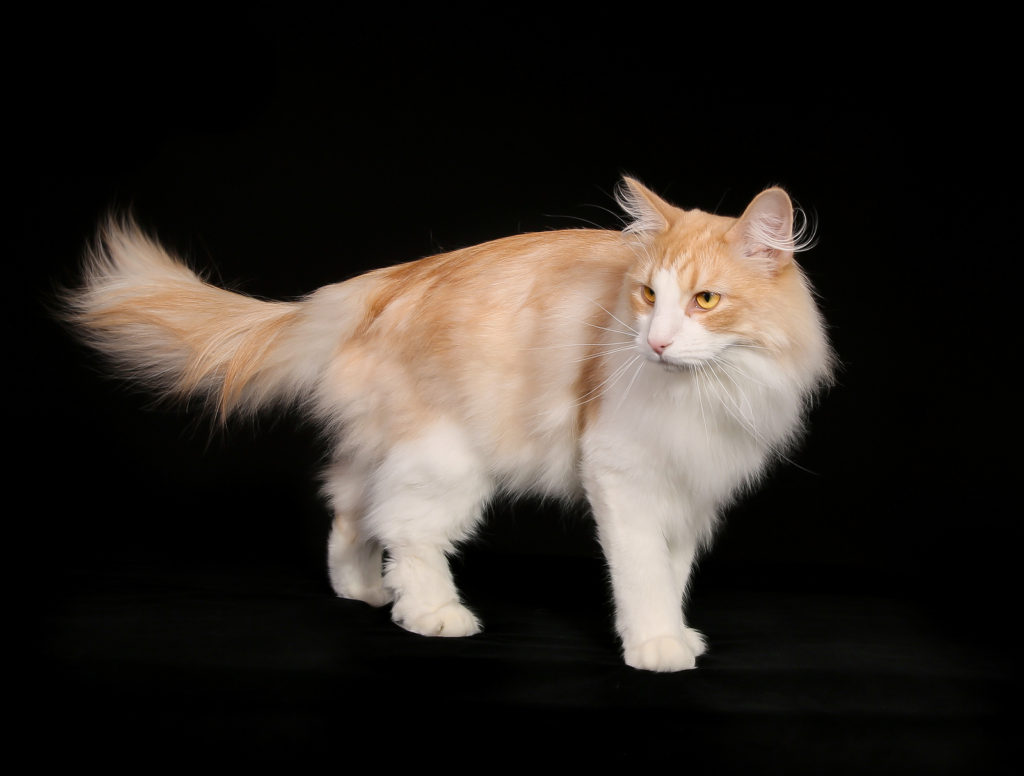 Norwegian Forest cats come in a myriad of colors. In addition to color variations, they can have numerous coat patterns. Most colors and patterns of Norwegian Forest Cats are widely accepted by fanciers, so unlike other breeds, you don't need to worry too much about a particular color or pattern signaling impurity with the exception of a handful of colors we will discuss shortly. In fact, patterns are not even documented at the time of breed registration because of the countless possibilities and variations.
Common Colors
The most common colors of Norwegian Forests must be seen in light of their patterns or the kind of coat a tabby has. Considering all variants, Norwegian Forest Cat coats are most commonly:
black
blue
red
cream
black tortie
blue tortie
smoke
silver
white
golden
light amber
amber
Common Patterns
Their coat patterns can be:
van
harlequin
bicolor
unspecified portions that are white
Specific tabby variants are categorized as:
blotched tabby
mackerel tabby
spotted tabby
ticked tabby
Common Combinations
The eye colors of Norwegian Forest cats can be blue, orange or green.
Depending on the color of a Norwegian Forest Cat, the coat and its pattern, you will frequently see the following combinations:
brown tabby
black tabby
red tabby
blue tabby
tortie tabby
cream tabby
silver tortie tabby
blue tabby
black smoke tabby
blue smoke tabby
blue silver tabby
red silver tabby
tortie silver tabby
tortie smoke tabby
cream silver tabby
blue tortie silver tabby
blue tortie smoke tabby
spotted tabby
ticked tabby
white blue eyed tabby
cream smoke and white tabby
white orange eyed tabby
white odd eyed tabby
white green eyed tabby
Color Exceptions
You should note that lilac, cinnamon, chocolate and fawn are not accepted colors of a Norwegian Forest cat. There are some who don't accept amber or light amber either.
Special Variants
There are variants among the four major types of Norwegian Forests, namely:
ticked
mackerel
blotched
classic
spotted
All these variants can come in an all-white coat with specific types of patterns. Depending on the variant, there will be special facial features and there can be some stripes or spots of different hues on different parts of the body including the legs, tail, around the neck and between the ears. Many of these differences are noticeable even to an untrained eye but some are much more subtle and discernible only by an experienced breeder.